Dery fears are confirmed
1st June 1985
Page 20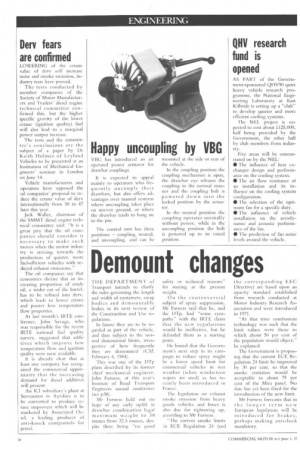 Page 20, 1st June 1985 —
Dery fears are confirmed
Close
LOWERING of the cetane value of dery will increase noise and smoke emission, industry tests have proved.
The tests conducted by member companies of the Society of Motor Manufacturers and Traders' diesel engine technical committee confirmed this, but the higher specific gravity of the lower cetane (ignition quality) fuel will also lead to a marginal power output increase.
The tests and the committee's conclusions are the subject of a paper by Dr Keith Holmes of Leyland Vehicles to be presented at an Institution of Mechanical Engineers' seminar in London on June 14.
Vehicle manufacturers and operators have opposed the oil companies' proposal to reduce the cetane value of dery internationally from 50 to 47 later this year.
Jack Waller, chairman of the SMMT diesel engine technical committee said: "It is a great pity that the oil companies should consider it necessary to make such moves when the motor industry is striving towards the production of quieter, more fuel-efficient vehicles with reduced exhaust emissions."
The oil companies say that economics dictate that an increasing proportion of crude oil, a wider cut of the barrel, has to be refined into derv, which leads to lower cetane and poorer low temperature flow properties.
At last month's IRTE conference, John Savage, who was responsible for the recent IRTE national fuel quality survey, suggested that additives which improve low temperature flow and ignition quality were now available.
It is already clear that at least one company has recognised the commercial opportunity that the increasing demand for diesel additives will present.
An ICI subsidiary's plant at Stevenston in Ayrshire is to be converted to produce cetane improvers which will be marketed by Associated Octel, a leading producer of anti-knock compounds for petrol.