Demount changes
1st June 1985
Page 20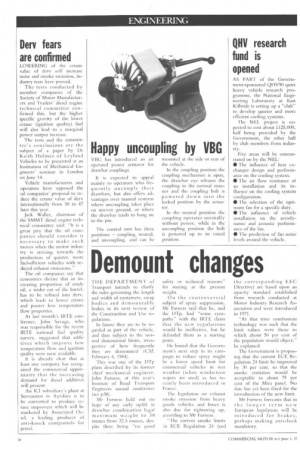 Page 20, 1st June 1985 —
Demount changes
Close
THE DEPARTMENT of Transport intends to clarify the rules governing the length and width of containers, swap bodies and demountable bodies in its next review of the Construction and Use regulations.
In future they are to be regarded as part of the vehicle, and thus subject to the normal dimensional limits, irrespective of how frequently they are demounted (CM, February 4, 1984).
This was one of the DTp plans described by its former chief mechanical engineer, John Furness, at this year's Institute of Road Transport Engineers annual conference (see p38).
Mr Furness held out no hope of any early uplift in drawbar combination legal maximum weight to 38 tonnes from 32.5 tonnes, despite there being "no good safety or technical reasons" for staying at the present weight.
On the controversial subject of spray suppression, Mr Furness said that he, and the DTp, had "some sympathy" with the IRTE claim that the new regulations would be ineffective, but he defended them as a starting point.
He hinted that the Government's next step in its campaign to reduce spray might he a lower speed limit for commercial vehicles in wet weather (when windscreen wipers are used) as has recently been introduced in France.
The legislation on exhaust smoke emission from heavy goods vehicles and buses is also due for tightening up, according to Mr Furness.
"The current smoke limits in ECE Regulation 24 (and the corresponding EEC Directive) are based upon an opacity standard established from research conducted at Motor Industry Research Association and were introduced in 1971.
"At that time combustion technology was such that the limit values were those to which about 50 per cent of the population would object," he explained.
The Government is proposing that the current ECE Regulation 24 limit be improved by 30 per cent, so that the smoke emission would be acceptable to about 75 per cent of the Mira panel. No date has yet been fixed for the introduction of the new limit.
Mr Furness forecasts that in the longer term new European legislation will be introduced for brakes, perhaps making anti-lock mandatory.