Ruling affects partnerships' licences
1st June 1985
Page 18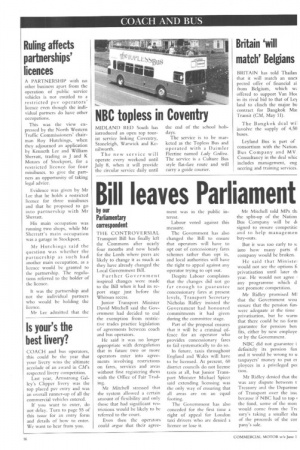 Page 18, 1st June 1985 —
Ruling affects partnerships' licences
Close
A PARTNERSHIP with no other business apart from the operation of public service vehicles is not entitled to a restricted psv operators' licence even though the individual partners do have other occupations.
This was the view expressed by the North Western Traffic Commissioners' chairman Roy Hutchings, when they adjourned an application by Kenneth Lee and William Sherratt, trading as J and K Motors of Stockport, for a restricted licence for four minibuses, to give the partners an opportunity of taking legal advice.
Evidence was given by Mr Lee that he holds a restricted licence for three minibuses and that he proposed to go into partnership with Mr Sherratt.
His main occupation was running two shops, while Mr Sherratt's main occupation was a garage in Stockport.
Mr Hutchings said the question was whether the partnership as such had another main occupation, as a licence would be granted to the partnership. The regulations referred to the holder of the licence.
It was the partnership and not the individual partners who would be holding the licence.
Mr Lee admitted that the