Bill leaves Parliament
1st June 1985
Page 18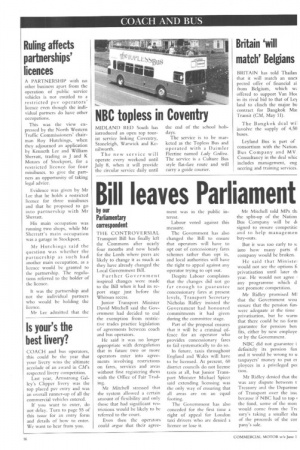 Page 18, 1st June 1985 —
Bill leaves Parliament
Close
by our Parliamentary correspondent
THE CONTROVERSIAL Transport Bill has finally left the Commons after nearly four months and now heads for the Lords where peers are likely to change it as much as they have already changed the Local Government Bill.
Further Government inspired changes were made to the Bill when it had its report stage just before the Whitsun recess.
Junior Transport Minister David Mitchell said the Government had decided to end the exemption from restrictive trades practice legislation of agreements between coach and bus operators.
He said it was no longer appropriate with deregulation that in future two or more operators enter into agreements involving restrictions on fares, services and areas without first registering them with the Office of Fair Trading.
Mr Mitchell stressed that the system allowed a certain amount of flexibility and only those that had significant restrictions would be likely to be referred to the court.
Even then the operators could argue that their agree ment was in the public interest.
Labour voted against this measure.
The Government has also changed the Bill to ensure that operators will have to opt out of concessionary fares schemes rather than opt in, and local authorities will have the right to appeal against any operator trying to opt out.
Despite Labour complaints that the changes did not go far enough to guarantee concessionary fares at present levels, Transport Secretary Nicholas Ridley insisted the Government had honoured commitments it had given during the committee stage.
Part of the proposal ensures that it will be a criminal offence for an operator who provides concessionary fares to fail systematically to do so.
In future, taxis throughout England and Wales will have to be licensed. At present, 60 district councils do not license taxis at all, hut Junior Transport Minister Michael Spiccr said extending licensing was the only way of ensuring that all areas are on an equal footing.
The Government has also conceded for the first time a right of appeal for London taxi drivers who are denied a licence or lose it. Mr Mitchell told MPs tit the split-up of the Nation Bus Company will be di signed to ensure competitio and to help managemen buy-outs.
But it was too early to into how many parts ti company would be broken.
He said that Ministei would not see the options fi privatisation until later th year. He would not agree any programme which d not promote competition.
Mr Ridley promised Ml that the Government wou ensure that the pension fun. were adequate at the time privatisation, hut he warm that there could be no form guarantee for pension ben fits, either by new employe or by the Government.
NBC did not guarantee i definitely its pension fun and it would be wrong to u taxpayers' money to put er ployees in a privileged ply tion.
Mr Ridley denied that the was any dispute between t Treasury and the Departme of Transport over the issu because if NBC had to top the fund, sonic of the mon would come from the Trc sury's taking a smaller sha of the proceeds of the cot pany's sale.