Atlas aims for the top
1st June 1985
Page 17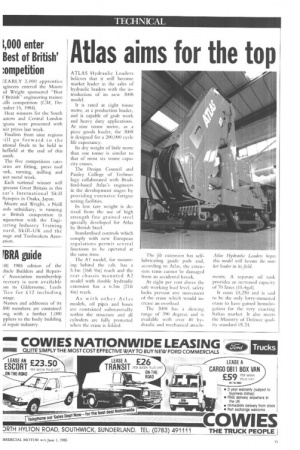 Page 17, 1st June 1985 —
Atlas aims for the top
Close
ATLAS Hydraulic Loaders believes that it will become market leader in the sales of hydraulic loaders with the introduction of its new 3008 model.
It is rated at eight tonne metre, as a production loader, and is capable of grab work and heavy duty applications. At nine tonne metre, as a piece goods loader, the 3008 is designed for a 200,000 cycle life expectancy.
Its dry weight of little more than one tonne is similar to that of most six tonne capacity cranes.
The Design Council and Paisley College of Technology collaborated with Bradford-based Atlas's engineers in the development stages by providing extensive fatigue testing facilities.
Its low tare weight is derived from the use of high strength fine grained steel specially developed for Atlas by British Steel.
Standardised controls which comply with new European regulations permit several functions to be operated at the same time.
The Al model, for mounting behind the cab, has a 5.1m (16ft Yin) reach and the rear chassis mounted A2 model with double hydraulic extension has a 6.5m (21ft 4in) reach.
As with other Atlas models, oil pipes and hoses are contained substantially within the structure and all cylinders are fully protected when the crane is folded. The jib extension has selflubricating guide pads and, according to Atlas, the extension rams cannot be damaged from an accidental knock.
At eight per cent above the safe working load level, safety locks prevent any movement of the crane which would increase an overload.
The 3008 has a slewilig range of 390 degrees and is available with over 40 hydraulic and mechanical attach ments. A separate oil tank provides an increased capacity of 70 litres (15.4gal).
It costs £5,250 and is said to be the only lorry-mounted crane to have gained homologation for the very exacting Italian market. It also meets the Ministry of Defence quality standard 05.24.