In-cab computer for weighing
1st June 1985
Page 16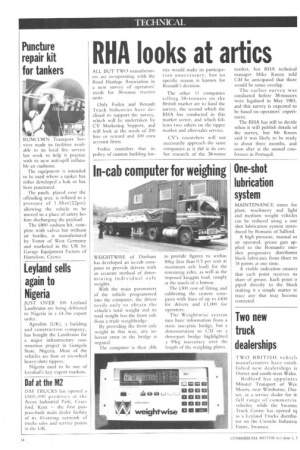 Page 16, 1st June 1985 —
In-cab computer for weighing
Close
WEIGHTWISE of Durham has developed an in-cab computer to provide drivers with an accurate method of determining individual axle weights.
With the main parameters of the vehicle programmed into the computer, the driver needs only to obtain the vehicle's total weight and its total weight less the front axle from a trade weighbridge.
By providing the front axle weight in this way, any inherent error in the bridge is negated.
The computer is then able to provide figures to within 50kg (less than 0.5 per cent at maximum axle load) for the remaining axles, as well as the imposed kingpin load, simply at the touch of a button.
The £300 cost of fitting and calibrating the system compares with fines of up to £400 for drivers and £1,000 for operators.
The Weightwise system uses basic information from a static one-plate bridge, hut a demonstration to CM on a three-part bridge highlighted a 90kg inaccuracy over the length of the weighing plates.