European traffic data
1st June 1985
Page 15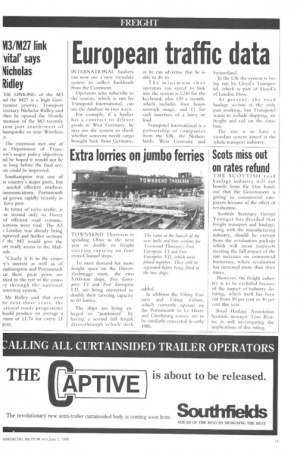 Page 15, 1st June 1985 —
European traffic data
Close
INTERNATIONAL hauliers can now use a new viewdata system to collect backloads from the Continent.
Operators who subscribe to the system, which is run by Transpotel International, can use the database in two ways.
For example, if a haulier has a contract to deliver goods in West Germany, he may use the system to check whether someone needs cargo brought back from Germany,
or he can advertise that he is able to do so.
The minimum that operators can spend to link into the system is 2230 for the keyboard, plus S:30 a month, which includes four hours network usage, and £1 for each insertion of a lorry or load.
"Franspotel International is a partnership of companies from the UK, the Netherlands, West Germany and
Switzerland.
In the UK the system is being run by Lloyd's Transpotel, which is part of Lloyd's of London Press.
At present, the road haulage section is the only part working, hut Transpotel wants to include shipping, air freight and rail on the database.
The aim is to have a viewdata system aimed at the whole transport industry.