No licence increase
1st June 1985
Page 14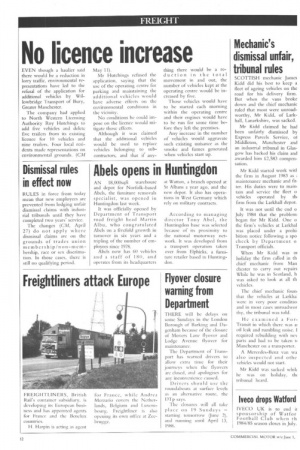 Page 14, 1st June 1985 —
No licence increase
Close
EVEN though a haulier said there would be a reduction in lorry traffic, environmental representations have led to the refusal of the application for additional vehicles by Willowbridge Transport of Bury, Greater Manchester.
The company had applied to North Western Licensing Authority Roy Hutchings to add five vehicles and delete five trailers from its existing licence for 10 vehicles and nine trailers. Four local residents made representations on environmental grounds. (CM
May 11).
Mr Hutchings refused the application, saying that the use of the operating centre for parking and maintaining the additional vehicles would have adverse effects on the environmental conditions in the vicinity.
No conditions he could impose on the licence would mitigate those effects.
Although it was claimed that the additional vehicles would be used to replace vehicles belonging to subcontractors, and that if any thing there would be a reduction in the total movement in and out, the number of vehicles kept at the operating centre would be increased by five.
Those vehicles would have to be started each morning within the operating centre and their engines would have to he run for some time before they left the premises.
Any increase in the number of vehicles would aggravate such existing nuisance as the smoke and fumes generated when vehicles start up.