Pit strike driving fines levied on owner driver
1st June 1985
Page 13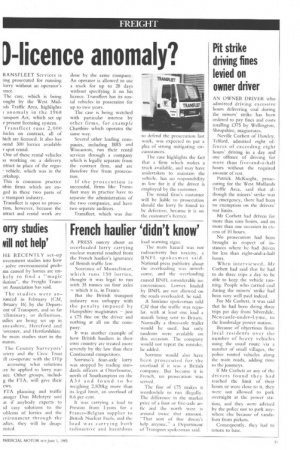 Page 13, 1st June 1985 —
Pit strike driving fines levied on owner driver
Close
AN OWNER DRIVER who admitted driving excessive hours delivering coal during the miners' strike has been ordered to pay fines and costs totalling £375 by Wellington, Shropshire, magistrates.
Neville Corbett of Dawley, Telford, admitted eight offences of exceeding eight hours'. driving in a day and one offence of driving for more than five-and-a-half hours without the required amount of rest.
Patrick McKnight, prosecuting for the West Midlands Traffic Area, said that although the miners' strike was an emergency, there had been no exemption on the drivers' rest limits.
Mr Corbett had driven for more than nine hours, and on more than one occasion in excess of 10 hours.
No prosecution had been brought in respect of instances where he had driven for less than eight-and-a-half hours.
When interviewed, Mr Corbett had said that he had to do three trips a day to be able to keep the vehicle running. People who carried coal during the miners' strike had been very well paid indeed.
For Mr Corbett, it was said that he had been doing three trips per day from Silverdale, Newcastle-under-Lyme, to the Ironbridge power station.
Because of objections from local residents over the number of heavy vehicles using the usual route via a number of small villages, the police routed vehicles along the main roads, adding time to the journeys.
If Mr Corbett or any of the drivers found they had reached the limit of their hours or were close to it, they were not allowed to park overnight at the power sta tion, and they were advised by the police not to park anywhere else because of vandalism from pickets.
Consequently, they had to return to base.