orry studies NW not help'
1st June 1985
Page 13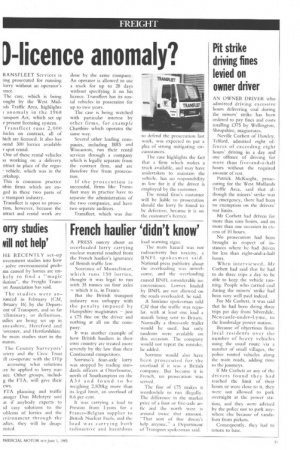 Page 13, 1st June 1985 —
orry studies NW not help'
Close
HE RECENTLY set-up overnment studies into how solve environmental probms caused by lorries are unkely to find a "magic ilution", the Freight Transart Association has said.
The studies were anmnced in February (CM, .bruary 16) by the Departent of Transport, and so far 7climinary, or definition, udies are being set up in ancashire, Hereford and rorcester, and Hertfordshire. he main studies start in the [turns'.
The County Surveyors' )ciety and the Civic Trust ill co-operate with the DTp . accessing what solutions lay he applied to lorry nuilice. Other groups, includg the FTA, will give their ews.
FTA planning and traffic anager Don McIntyre said at if anybody expects to id easy solutions • to the -oblems of lorries and the ivironment through the aches, they will be disapUnted.