French haulier 'didn't know'
1st June 1985
Page 13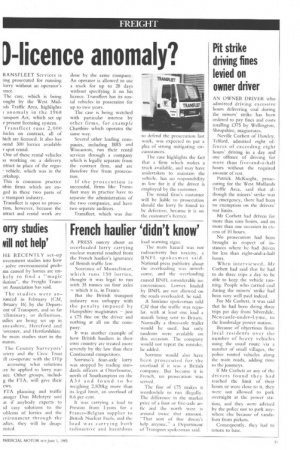 Page 13, 1st June 1985 —
French haulier 'didn't know'
Close
A PRESS outcry about an overloaded lorry carrying nuclear material resulted from the French haulier's ignorance of British traffic law.
Sotrimo of Montelimar, which runs 150 lorries, thought it was legal to run with 35 tonnes on four axles — which it is, in France.
But the British transport industry was unhappy with the penalty imposed by Hampshire magistrates — just a 175 fine on the driver and nothing at all on the company.
It was another example of how British hauliers in their own country are treated more severely by the law than their Continental competitors.
Sotrimo's four-axle lorry was stopped by trading standards officers at Otterboume, north of Southampton on the A34 and found to he weighing 2,820kg snore than its legal limit, an overload of 8.6 per c&nt.
It was carrying a load to Preston from Lyons for a Franco-Belgian supplier to British Nuclear Fuels, and the load was carrying both radioactive and hazardous load warning signs.
The main hazard was not radioactivity but toxicity, a BNFL spokesman said. National press publicity about the overloading was unwelcome, and the overloading
caused BNFL considerable inconvenience. Lorries loaded by BNFL are not allowed On the roads overloaded, he said.
A Sotrimo spokesman told CM that the traffic was regular, with at least one load a month being sent to Britain. Normally a three-axle trailer would he used, but only tandems were available on this occasion. The company would not repeat the mistake, he added.
Sotrimo would also have been prosecuted for the overload if it was a British company. But because it is French, no prosecution was served.
The fine of £75 makes it worthwhile to run illegally. The difference in the market price of a four or five-axle artic and the north west is around twice that amount. "That sort of tine doesn't help anyone," a Department. of Transport spokesman said.