)-licence anomaly?
1st June 1985
Page 13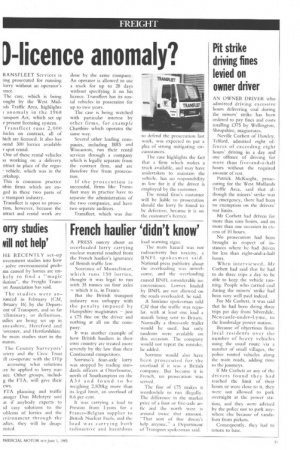 Page 13, 1st June 1985 —
)-licence anomaly?
Close
RANSFLEET Services is :ing prosecuted for running lorry without an operator's :ence.
The case, which is being ought by the West Midads Traffic Area, highlights anomaly in the 1968 t'atisport Act, which set up e present licensing system. Transfleet runs 2,000 .hides on contract, all of hich are licensed. It also has ound 300 lorries available r spot rental.
One of these rental vehicles as working on a delivery ntract in place of the reguvehicle, which was in the Drkshop.
This is common practice ithin firms which are enged in these two parts of e transport industry_ Transfleet is open to prosenon, however, because the ntract and rental work are done by the same company. An operator is allowed to use a truck for up to 28 days without specifying it on his licence. Transfleet has its rental vehicles in possession for up to two years.
The case is being watched with particular interest by other firms, for example Charthire which operates the same way.
Several other leading companies, including BRS and Wincanton, run their rental services through a company which is legally separate from the contract firm, and arc therefore free from prosecution.
If the prosecution is successful, firms like Transfleet may in practice have to separate the administration of the two companies, and have two separate auditors.
"Transfleet, which was due to defend the prosecution last week, was expected to put a plea of strong mitigating circumstances.
The case highlights the fact that a firm which makes a truck available, and may have undertaken to maintain the vehicle, has no responsibility in law for it if the driver is employed by the customer.
The rental firm's customer will be liable to prosecution should the lorry he found to be defective, because it is on the customer's licence.