L.A. Warns Haulier After Breach
1st June 1962
Page 52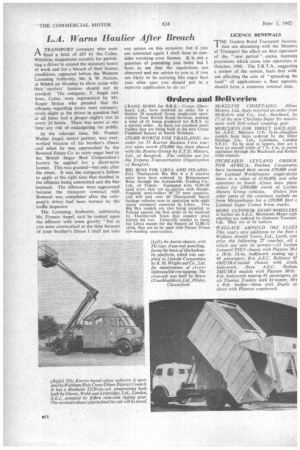 Page 52, 1st June 1962 —
L.A. Warns Haulier After Breach
Close
AA TRANSPORT company who were fined a total of £85 by the Caine, Wiltshire, magistrates recently for permitting a driver to exceed the statutory hours of work and for a breach of their licence conditions, appeared before the Western Licensing Authority, Mr. S. W. Nelson, at Bristol on Monday to show cause why their"' carriers' licences should not be revoked. The company, F. Angel and Sons, Caine, were represented by Mr. Roger Stokes who pleaded that the offences regarding hours were comparatively slight as the driver in question had at all times had a proper night's rest in every 24 hours. There was never at any time any risk of endangering the public.
At the relevant time, Mr. Francis Walter Angel, senior partner, was overworked because of his brother's illness and when he was approached by the Bowood Estate Co. to carry sugar beet to the British Sugar Beet Corporation's factory he applied for a short-term licence. This was granted—but only after the event. It was the company's failure to apply at the right time that resulted in the offences being committed and the fine imposed. The offences were aggravated because the transport contract with Bowood was completed after the company's driver had been warned by the traffic inspector.
The Licensing Authority, addressing Mr. Francis Angel, said he looked upon the offences with some gravity "but as you were overworked at the time because of your brother's illness 1 shall not take any action on this occasion: but if you are convicted again I shall have to consider revoking your licence. It is not a question of punishing you twice but I have to see that the regulations are observed and my advice to you is, if you are likely to be carrying this sugar beet year after year you should put in a separate application to do so." LICENCE RENEWALS
THE Traders Road Transport Association are discussing with the Ministry of Transport the effect on fleet operator5
of the new period" excise licensing provisions which came into operation it October, 1960. The T.R.T.A., suggesting a review of the system, feels that without affecting the aim of "spreading thc load" of applications a fleet operator should have a common renewal date.