Govt. "Guarantee" Plan for Vehicle Parts
1st June 1962
Page 50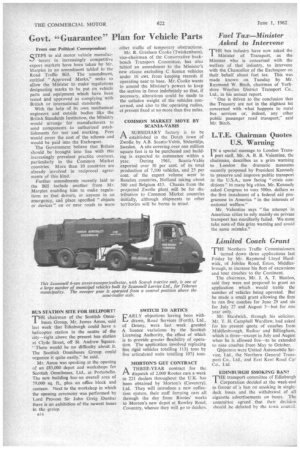 Page 50, 1st June 1962 —
Govt. "Guarantee" Plan for Vehicle Parts
Close
Front our Political Correspondent QTEPS to aid motor vehicle manufac turers in increasingly competitive export markets have been taken by M r. Marples in an amendment tabled to the Road Traffic Bill. The amendment, entitled "Approved Marks," seeks to allow the Minister to make regulations designating marks to be put on vehicle parts and equipment which have been tested and approved as complying with British or international standards.
With the help of its own mechanical engineers and outside bodies like the British Standards Institution, the Ministry would arrange for manufacturers to send components to authorized establishments for test and marking. Fees would cover the cost of the scheme and would be paid into the Exchequer.
The Government believe that Britain should be brought into line with this increasingly prevalent practice overseas, particularly in the Common Market countries. More than 10 countries are already involved in reciprocal agreements of this kind.
Further amendments recently laid to the Bill include another from Mr. Marples enabling him to make regulations so that drivers, or anyone in an emergency, can place specified "objects or devices" on or near roads to warn
BUS STATION SITE FOR HELIPORT? chairman of the Scottish Omnibuses Group, Mr. James Amos, said last week that Edinburgh could have a helicopter station in the centre of the city—right above the present bus station at Clyde Street, off St. Andrew Square. "There would be no difficulty about it. The Scottish Omnibuses Group could organize it quite easily," he said.
Mr. Amos was speaking at the opening of an £85,000 depot and workshops for Scottish Omnibuses, Ltd., at Portobello. The new building has-an overall area of 79,000 sq. ft., plus an office block and canteen. Next to the workshop in which the opening ceremony was performed by Lord Provost Sir John Greig Dunbar there is an exhibition of the newest buses in the group. other traffic of temporary obstructions.
Mr. R. Gresham Cooke (Twickenham), vice-chairman of the Conservative backbench Transport Committee, has also tabled an amendment to the Minister's new clause excluding C licence vehicles under 16 cwt. from keeping records if operating near to base. Mr. Cooke wants to amend the Minister's powers to keep the section in force indefinitely so that, if necessary, alterations could be made to the unladen weight of the vehicles concerned, and also to the operating radius, at present fixed at no more than five miles.
COMMON MARKET MOVE BY SCANIA-VABIS
A SUBSIDIARY factory is to be .rt established in the Dutch town of Zwolle by A.B. Scania-Vabis, Sodertalje, Sweden. A site covering over one million square feet is to be purchased and building is expected to commence within a year. During 1961, Scania-Vabis exported over 50 per cent_ of its total production of 7,100 vehicles, and 25 per cent, of the export volume went to Benelux countries, Holland taking about 500 and Belgium 415. Chassis from the projected Zwolle plant will be for distribution to Common Market countries initially, although shipments to other territories will be borne in mind.
SWITCH TO ARTICS
EARLY objections having been withdrawn, Road drawn, Road Services (Forth), Ltd.. of Denny, were last week granted A licence variations by the Scottish Licensing Authority, the effect of which is to provide greater flexibility of operation. The application involved replacing five rigid vehicles totalling 113+ tons by five articulated units totalling 1074tons.
MORTON'S GET CONTRACT
ATHREE-YEAR contract for the dispatch of 2,000 Rootes cars a week to 221 dealers throughout the U.K. has been obtained by Morton's (Coventry), Ltd. They will introduce a new collection system, their staff ferrying cars all through the day from Rootes' works to Morton's new depot at Rowley Road, Coventry, whence they will go to dealers.