Fuel Tax Hits the Public
1st June 1951
Page 39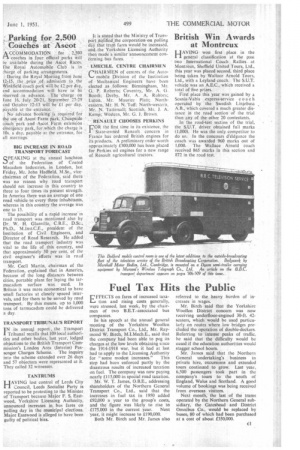 Page 39, 1st June 1951 —
Fuel Tax Hits the Public
Close
VFFECTS on fares of increased taxa
tion and rising costs generally, WQIC stressed, last week, by the chairmen of two B.E.T.-associated bus companies.
In his speech at the annual general meeting of the Yorkshire Woollen District Transport Co., Ltd., Mr. Raymond W. Birch, M.I.Mech.E., said that the company had been able to peg its charges at the low levels obtaining since the 1914-1918 war, but it had at last had to apply to the Licensing Authority for "some modest increases." This step had been enforced partly by the disastrous results of increased taxation on fuel. The company was now paying nearly £115,000 in special road taxation.
Mr. W. T. James, 0.B.E., addressing shareholders of the Northern General Transport Co., Ltd., said that the increases in fuel tax in 1950 added £92,000 a year to the group's costs, and the figure was likely to rise to £175,000 in the current year. Next year, it might increase to £190,000. Both Mr. Birch and Mr. James also referred to the heavy burden of increases in wages.
Mr. Birch said that the Yorkshire Woollen District concern was now receiving underfloor-engined 30-ft. 42seaters, which would be used particularly on routes where low bridges precluded the operation of double-deckers. Referring to intense peaks of traffic, he said that the difficulty would be cased if the education authorities would stagger school hours.
Mr. James said that the Northern General undertaking's business in private hire, excursions and extended tours continued to grow. Last year, 6,500 passengers took part in the company's tours to the south of England, Wales and Scotland. A good volume of bookings was being received from overseas visitors.
Next month, the last of the trams operated by the Northern General subsidiary, the Gateshead and District Omnibus Co., would be replaced by buses, 80 of which had been purchased at a cost of about £350,000.