OPINIONS and QUERIES RESPONSIBILITY FOR AFTERSALES SERVICE O NE can spend
1st June 1945
Page 34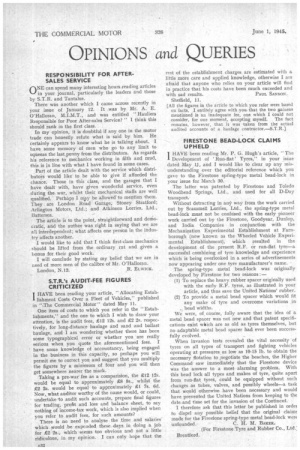 Page 34, 1st June 1945 —
OPINIONS and QUERIES RESPONSIBILITY FOR AFTERSALES SERVICE O NE can spend
Close
many interesting hours reading articles in your journal, particularly the leaders and those by S.T.R. and Tantalus.
There was another which I came across recently in your issue of January 12. It was by Mr. A. E. O'Halloran, M.I.M.T., and was entitled 'Hauliers Responsible for Poor After-sales Service? " I think this should rank in the first class.
In my opinion, it is doubtful if any one in the motor trade can honestly refute what is said by him. He certainly appears to know what he is talking about. I have some memory of men who go to any limit to squeeze the last penny from the distributors. As regards his reference to mechanics working in filth and mud, this is in line with what I have found in some cases.
Part of the article dealt with the service which distributors would like to be able to give if afforded the chance. Those in this class, and the garages that I have dealt with, have given wonderful service, even during the war, whilst their mechanical staffs are well qualified. Perhaps I MR be allowed to mention them, They are London Road Garage, Stoney Stratford; Arlington Motors, Ltd.; and Atkinson Lorries, Ltd., Battersea.
The article is to the point, straightforward and democratic, and the author was right in saying that we are all interdependent; what affects one person in the industry affects another.
I would like to add that I think first-class mechanics should be lifted from the ordinary rut and given a bonus for their good work.
I will conclude by stating my belief that we are in need of more men of the calibre of Mr. O'Halloran.
London, N.12. ,R. Eewicx.
S.T.R.'s AUDIT-FEE FIGURES CRITICIZED I HAVE been reading your article, "Allocating Establishment Costs Over a Fleet of Vehicles," published in "'The Commercial Motor" dated May 11.
One item of costs to which you refer in the "Establishments," and the one to which I wish to draw your attention, is the audit fees, 212 12s. and £2 2s. respectively, for long-distance haulage and sand and ballast haulage, and I am wondering whether there has been some typographical error or whether you are really serious when you quote the aforementioned fees. have some knowledge of accountancy, being engaged in the business in this capacity, so perhaps you will permit me to correct you and suggest that you multiply the figures by a minimum of four and you will then get somewhere nearer the mark. Taking a pre-war fee as a comparision, the 212 12s. would be equal to approximately 28 8s., whilst the 22 2s. would be equal to approximately 21 is. 6d. Now,, what auditor worthy of the name would, or could, undertake 'to audit such accounts, prepare final figures for trading, profit and loss and balance sheet, to say nothing of income-tax work, which is also implied when you refer to audit fees, for such amounts?
There is no need to analyse the time and salaries' which would be expended these days in doing a job for 22 2s.., which seems too obvious and not a little ridiculous, in my opinion. I can only hope that the
A32 rest of the establishment charges are estimated with a little more care and applied knowledge, otherwise I am afraid that anyone who relies on your article will find in practice that his costs have been much exceeded and with sad results. PAUL SANSON. Sheffield, II.
[All the figures in the article to which you refer were based on facts, I entirely agree with you-that the two guineas mentioned is an inadequate fee, one which I could not consider, for one moment, accepting myself. The fact remains, however, that it was taken from the actual audited accounts of a haulage contractor.—S.T.R.] FIRESTONE BEAD-LOCK CLAIMS UPHELD I HAVE been reading Mr. P. G. Hugh's article, "The I Development of ' Run-flat ' Tyres," in your issue dated May 1,1, and I would like to clear up any misunderstanding over the editorial reference which you gave to the Firestone spring-type metal bead-lock in your issue for March 30.
The latter was patented by Firestone and Toledo Woodhead Springs, Ltd., and used for all ID-Day transport.
Without detracting in airy way from the work carried Out by Scarnmell Lorries, Ltd., the spring-type metal bead-lock must not be confused with the early pioneer work carried out by the Firestone, Goodyear, Dunlop, and India Companies in conjunction with the Mechanization Experimental Establishment at Farnborough (now known as the Wheeled Vehicle Experimental Establishment), which resulted in the development of the present R.F. or run-flat tyre—a successful combining of tyre knowledge and experience which is being overlooked in a series of advertisements now appearing under one tyre manufacturer's name.
The spring-type metal bead-lock was originally developed by Firestone for two reasons ; — (1) To replace the heavy rubber spacer originally used with the early R.F. tyres, as illustrated in your article, and thus save the United Nations' rubber.
(2) To provide a metal bead spacer which would fit any make of tyre and overcome variations in bead widths.
We were, of, course, fully aware that the idea of a metal bead spacer was not new and that patent specifications exist wiaich are as old as tyres themselves, but no adaptable metal bead spacer had ever been successfully evolved. "
When invasion tests revealed the vital necessity of tyres on all types of transport and fighting vehicles operating at pressures as low as 10-15 lb. to obtain the necessary flotation to ,negotiate the beaches, the Higher Command saw immediately that the Firestone device was the answer to a mostalarming problem. With this bead lock all types and makes of tyre, quite apart from run-fiat. tyres, could be equipped without such changes as tubes, valves, and possibly wheels—a task that would otherwise have been necessary and would have prevented the United Nations from keeping to the date and time set for the invasion of the Continent.
• I therefore ask that this letter be published in ordei to dispel any possible belief that the original claimE made for the Firestone spring-type metal bead-lock well unfounded. C. H. M. BAKER.
(For Firestone Tyre and Rubber Co., Ltd.: Brentford.