LEYLAND UPHOLDS ITS RE TION WITH HIPPO MARK H
1st June 1945
Page 26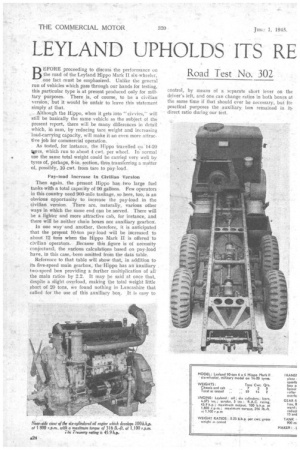 Page 27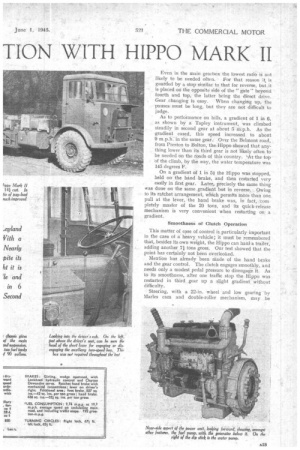 Page 28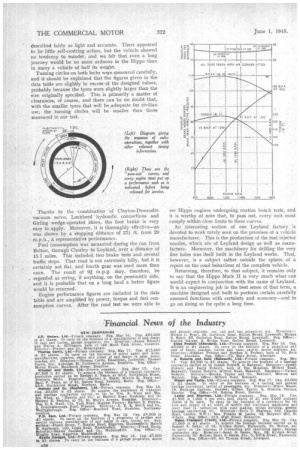 Page 26, 1st June 1945 —
LEYLAND UPHOLDS ITS RE TION WITH HIPPO MARK H
Close
Road Test No. 302
BEFORE proceeding to discuss the performance on the road of the Leyland Hippo Mark II six-wheeler, one fact must be emphasized. Unlike the general run of vehicles which pass through our hands for testing, this particular type is at present produced only for milli. tary purposes. There is, -of course, to be a civilian version, but it would be unfair to leave this statement simply at that.
Although the Hippo, when it gets into "civvies." will still be basically the same vehicle as the subject of the present report, there will be many differences in detail which, in sum, by reducing tare weight and increasing load-carrying capacity, will make it an even more attrac tive job for comniercial operation. .
As tested, for instance, the Hippo travelled on 14-20 toes, which run to about 4 cwt, per wheel. In normal use the same total weight could be carried very well by tyres of, perhaps, 8-in. section, thus transferring a matter of, possibly, 10 cwt. from tare to pay-load.
Pay-load Increase In Civilian Version Then again, the present Hippo has two large fuel tanks with a total capacity of 90 gallons. Few operators in this country need 900-mile tankage, so here, too, is an obvious opportunity to increase the pay-load in the civilian version. There are, naturally, various other ways in which the same end can be served. There will be a lighter and more attractive cab, for instance, and there will be neither chain boxes nor auxiliary gearbox.
In one way and another, therefore, it is anticipated that the present 10-ton pay-load will be increased to about 12 tons when the Hippo Mark II is offered to civilian operators. Because this figure is of necessity conjectural, the various calculations based on pay-load have, in this case, been omitted from the data table.
• Reference to that table will show that, in addition to its five-speed main gearbox, the Hippo has an auxiliary two-speed box providing a further multiplication of all the main ratios by 2.2. It may be said at once that, despite a slight overload, making the total weight little short of 20 tons, we found nothing in Lancashire that called for the use of this auxiliary box. It is easy to control, by means of a separate short lever on the driver's left, and one can change ratios in both boxes at the same time if that should ever be necessary, but for practical purpdses the auxiliary box remained in direct ratio during our test. Even in the main gear box the lowest ratio is not likely to be needed often. For that reason it, is guarded by a stop similar to that for reverse, but it is placed on the opposite side of the " gate " beyond fourth and top, the latter being the direct drive. Gear changing is easy. When changing up, the pauses must be long, but they are not difficult to judge.
As to performance on hills, a gradient of 1 in 6, as shown by a Tapley instrument, was climbed steadily in second gear at about 5 m.p.h. As the gradient eased, this speed increased to about 9 mph.' in the same gear. Over the Belmont road, from Preston to Bolton, the, Hippo showed that anything lower than its third gear is not likely often to be needed on the roads of this country. 'At the top Of the climb, by the way, the water temperature was 145 degrees P.
On a gradient of 1 in 5i the Hippo was stopped, held on the hand brake, and then restarted very easily in first gear. Later, precisely the same thing was done on the same gradient but in reverse. Owing to its ratchet arrangement, which permits more than one pull at the lever, the hand brake was, in fact, completely master of the 20 tons, and its quick-release mechanism is very convenient when restarting on a gradient.
Smoothness of Clutch Operation This matter of ease of control is particularly important in the case of a heavy vehicle; it must be remembered that, besides its own weight, the Hippo can haul a trailer, adding another If tons gross. Our test showed that the point has certainly not been overlooked.
Mention has already been niade of the hand brake and the gear control. The clutch engages smoothly, and needs only a modest pedal pressure to disengage it. As to its smoothness, after one traffic stop the Hippo was restarted in third gear up a slight gradient without difficulty.
Steering, with a 22-in, wheel and low gearing "by Marles cam and double-roller mechanism, may be described fairly as light and accurate. There appeared to be little self-centring action, but the vehicle showed no 'tendency to wander, and we felt that even a long journey would be no more arduous in the Hippo than in many a vehicle of half its weight.
Turning circles on both locks were measured carefully, and it should be explained that the figures given in the data table are slightly in excess of the designed values, probably because the tyres were slightly larger than the size originally specified. This is primarily a matter of clearances, of course, and there can be no doubt that, with the smaller tyres that will be adequate for civilian use, the turning circles will be smaller than those measured in our test.
_ Thanks to the combination of Clayton-Dewandre vacuum servo, Lockheed hydraulic connections and Girling wedge-operated 'shoes, the foot brake is very easy to apply. Moreover, it is thoroughly effective—as was shown by a stopping distance of 274 ft. from 20 m.p.h., a representative performance.
Fuel consumption was measured during the run from Bolton, through Chorley to Leyland, over a distance of 15.7 miles. This included two brake tests and several traffic stops. That road is not extremely hilly, but it is certainly not flat, and fourth gear was used more than once. The result of 9 m.p.g. may, therefore, be regarded as erring, if anything, on the pessimistic side, and it is probable that on a long haul a better figure would be. returned.
Engine performance figures are included in the data table and are amplified by power, torque and fuel consumption curves. After the road test we were able to see Hippo engines undergoing routine bench tests, and it is worthy of note that to pass out, every unit must comply within close limits to these curves.
An interesting section of one Leyland factory is devoted to work rarely seen on the premises of a vehicle manufacturer. This is the production of the fuel injector nozzles, which are of Leyland design as well as manufacture. Moreover, the machinery for drilling the very fine holes was itself built in the Leyland works. That, however, is a subject rather outside the sphere, of a report on the road behaviour of the complete vehicle.
Returning, therefore, to that subject, it remains only to say that the Hippo Mark II is very much what one would expect in conjunction with the name of Leyland. It is an engineering job in the best sense of that term, a machine designed and built to perform certain carefully assessed, functions with certainty and economy—and to go on doing so for quite a long time.