Crossley's Help to Build Up Bomber Fleet
1st June 1945
Page 25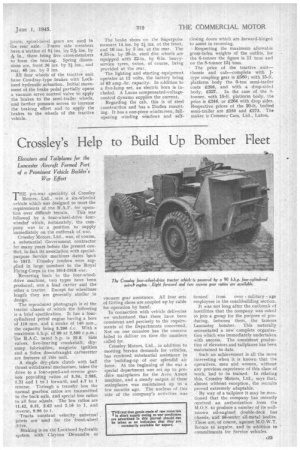 Page 25, 1st June 1945 —
Crossley's Help to Build Up Bomber Fleet
Close
Elevators and Tailplanes for the Lancaster Aircraft Formed Part of a Prominent Vehicle Builder's War Effort THE pre-war speciality of Crossley Motors, Ltd., was a six-wheeled vehicle which was designed to meet the requirements of the R.A.F. for operation over difficult terrain. • This was followed by a four-wheel-drive fourwheeler* which, fortunately, the company was in a position to supply immediately on the outbreak of war.
Crossley Motors, Ltd., was, of course, a substantial Government contractor for many years before the present conflict, in fact its association with specialpurpose Service machines dates back to 1912. Crossley tenders were supplied in large numbers to the Royal Flying Corps in the 1914-1918 war_ Reverting back to the four-wheeldrive machine, two types have been produced, one a load carrier and the other a tractor. Except for wheelbase length they are generally similar in design.
The reproduced photograph is of the tractor chassis of which the following is a brief specification. It has a fourcylindered petrol engine having a bore of 110 mne and a stroke of 140 mm., the capacity being 5,266 C.c. With a maximum b.h.p. of 90 at 2,500 r.p.m.; the R.A.C. rated h.p. is 29.8. •Side valves, five-bearing crankshaft, drysump lubrication, magneto ignition and a Soles downdraught carburetter are features of this unit.
A single dry-plate clutch with ball thrust withdrawal mechanism, takes the drive to a four-speed-and-reverse gearbox providing ratios of 5.34, 2.985, 1.71 and 1 to 1 forward, and 4.7 to 1 reverse. Through a transfer box the normal gearbox ratios are transmitted to the back axle, and special low ratios to all four wheels. The low ratios are 11.42, 6.31, 3.62 and 2.16 to 1, and reverse, 9.96 to 1.
Tracta constant velocity universal joints are used for the front-wheel drive.
Braking is on the Lockheed hydraulic system with Clayton De wanclre or
vacuum gear' assistance. All four sets of Girling shoes are coupled up by cable for operation by hand.
In connection with vehicle deliveries we understand that these have been consistent and precisely to the requirements of the Departments concerned. Not on one occasion has the concern failed to deliver on time the 'numbers called for.
Crossley Motors, Ltd., in addition to meeting Service demands for vehicles, has rendered substantial assistance in the building-up . of our splendid air force. At the beginning, of the war a special department was set up to produce mainplanes for the A vro Anson machine, and a steady output of these mainplanes was maintained lip to a few months ago. The nucleus of this side of the company's activities was formed from over military age employees in the coachbuilding section.
It was not long after the outbreak of hostilities that the company was asked to join a group for the purpose of producing, between them, the famous Lancaste; bomber. This naturally necessitated a new complete organization which was immediately undertaken with success. The consistent production of elevators and tailplanes has been maintained to date.
Such an achievement is all the more interesting when it is known that the operatives, men and women, without any previous experience of this class of work, had to be trained. In relating this, Crossley Motors, Ltd., says that, almost without exception, the recruits proved extremely adaptable.
By way of a tailpiece it may be mentioned that the company has recently received an authorization from the M.O.S. to produce a number of its wellknown oil-engined double-deck bus chassis, and 56-seater all-metal bodies. These are, of course, against M.O.W.T. licence to acquire, and in addition to commitments for Service vehicles.