Potteries Traction Wants 8-ft Buses DRESIDING at the a.g,rn. , of the
1st June 1945
Page 22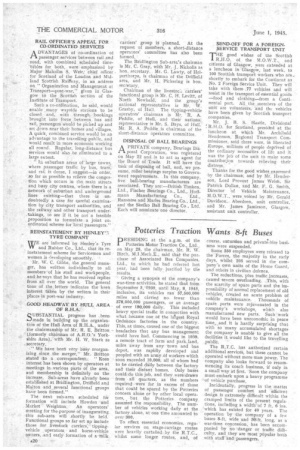 Page 22, 1st June 1945 —
Potteries Traction Wants 8-ft Buses DRESIDING at the a.g,rn. , of the
Close
Potteries Motor Traction Co., Ltd., on May 25, the chairman, Mr. R. W. Birch, M.I.Mech.E., said that the purchase of Associated Bus Companies, Ltd., to which he had referred last year, had been fully justified by the results Giving a synopsis of the company's war-time activities, he stated that from September 3, 1939, until May, 8, 1945, inclusive, its vehicles ran' 57,500,000 miles and carried no fewer than 378,000,000 passengers, or an average of over 180,000 daily, This included heavy special traffic in connection with what became one of the latgest Royal Ordnance factories in the country. This, at times, caused one of the biggest headaches that any bus management could have had. Commencing in 1939, a remote tract of farm and parkland, miles away from any town and bus depot, was rapidly developed and peopled with an army of workers which soon exceeded 10,000, all of whom had to be carried daily between the factory and their distant homes. Only buses could do this job, and they were drawn from all quarters, as the numbers required were 'far in excess of those that could be spared by the Potteries concern alone or by other local operators, but the Potteries company assumed the responsibility. The number of vehicles working daily at the factory alone, at one time amounted to over 300.
To effect essential economies, regular services on stage-carriage routes were heavily curtailed by the R.T.C., whilst some longer routes, and, of course, excursion and private-hire business were suspended.
Some 350 employees were released to the Forces, the majority in the, early days, whilst 205 served in the corn'pany's own units of the Home Guard, and others in civilian defence.
The reductions, plus traffic increases, caused -severe overloading. This, with the scarcity of spare parts and the impossibility of normal replacement of old vehicles, created an acute problem of vehicle maintenance. Thousands of spare parts were rejuvenated in the company's workshops, which also manufactured new parts. Such work would have been uneconoinic in peace time, and it is hardly surprising that with so many accumulated shortages the company is unable to give all the facilities it would like to the travelling public.
The R.T.C. has authorized certain additional services, but these cannot be operated without more man power. The company also looks forward to recommencing its coach business, if only in a small way at 6rst. Soon the company must embark upon a heavy programme of vehicle purchase.
Incidentally, progress in the mattes of passenger comfort and efficient design is extremely difficult within the cramped limits of the present regulations, including a width "of 7 ft. 6 ins. which has existed for 40 years. The operation by the company of a few buses 8-ft, wide and 30-ft. long, as a war-time concession, has been accompanied by no danger or traffic difficulty, and they are most popular both with staff and passengers.