Personal Pars
1st June 1945
Page 20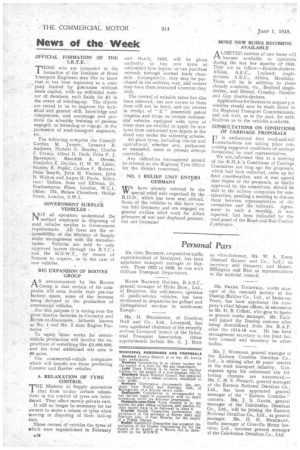 Page 20, 1st June 1945 —
Personal Pars
Close
Mac. CEO. BECKETT, corporation traffic superintendent of Stockport, has been appointed transport manager at Darwen. From 1922 to 1938, he was with Oldham Transport Department,
MAJOR MAURIcE HOLMES, R.A.S.C., general manager of Hicks Bros., Ltd.. of Braintree, the well-known operator of public-service vehicles, has been mentioned in despatches for gallant and distinguished services in north-west Europe.
Me.. H. BILLINGTON, of Goodlass, Wall and Co., Ltd., Liverpool, has been appointed chairman of the recently revived Liverpool branch of the Industrial Transport Association. Other appointments include MR, G. J. RICE
as vice-chairman, MR. W. A. EDGE (Samuel Banner and Co., Ltd.) as secretary and treasurer, and Messrs. Billington and Rice as representatives to•the national council.
ME. FRANK TliCKWELL, works manager of the remould factory of the Dunlop Rubber Co., Ltd., at Stoke-onTrent, has been appointed the company's chief labour officer, in succession to Mr. D. B. Collett, who goes to Speke as general works manager. Mr. Tuckwell joined the Dunlop concern after being demobilized from the R.A.F. after the 1914-18 war. He has been management secretary to the joint factory council and secretary to other bodies.
Me. J. WORSSAM, general manager of the Eastern Counties Omnibus Co., Ltd., is retiring after 40 years' service in the road transport industry. Consequent upon his retirement the following changes are announced:— MR. C. H. S. PicwErr, general manager of the Eastern National Omnibus Co., Ltd., has been appointed general manager of the " Eastern Counties " concern. Mn. 3. S. GAVIN, general manager of the Caledonian Omnibus Co., Ltd., Will be joining the Eastern National Omnibus Co., Ltd., as general manager. Ma. H. H. MEncstastr, traffic manager of Crosville Motor Services, Ltd., becomes general manager at the Caledonian Omnibus Co., Ltd.