One Hears—
1st June 1945
Page 19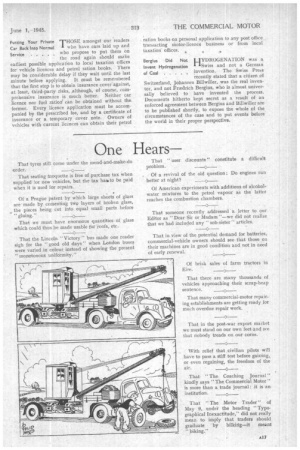 Page 19, 1st June 1945 —
One Hears—
Close
That tyres still come under the mend-and-make-do order. 0 That seating Moquette is free of purchase tax when supplied for new vehicles, but the tax hasp to be paid when it is used for repairs.
Of a Prague patent by which large sheets of glass are' made by cementing two layers of broken glass, the pieces being cut into equal small parts before "gluing."
That we must have enormous quantities of glass which could thus be made usable for-roofs, etc.
That the Lincoln " Victory " bus made one reader sigh for the "good old days" when London buses were varied in colour instead of showing the present " monotonous uniformity." That " user discounts" constitute a difficult problem. 0 Of a revival of the old question Do engines run better at night?
Of American experiments with additions of alcoholwater mixtures to the petrol vapour as the latter reaches the combustion chambers.
That someone recently addressed a ,letter to our Editor as "Dear Sir or Madam "—we did not realize that we had included any " sob-sister " articles.
--0 That in view of the potential demand for batteries, commercial-vehicle owners should see that those on their 'machines are in good condition and not in need of early renewal.
Of brisk sales of farm tractors in Eire.
That there are many thousands of vehicles approaching their scrap-heap sentence. 0
That many commercial-motor repairing.establishments are getting ready for much overdue repair work.
That in the post-war export market we must stand on our own feet and see that nobody treads on our corns.
With relief that civilian pilots will have to pass a stiff test before gaMing, or even regaining, the freedom of the air.
That "The Coaching Journal" kindly says "The Commercial Motor" is more than a trade journal: it is an institution. 0
That " The Motor Trader" of May 9, under the heading "Typographical Inexactitude," did not really mean to imply that traders should graduate by bilkidg—it meant "biking."