One Hears
1st June 1916
Page 3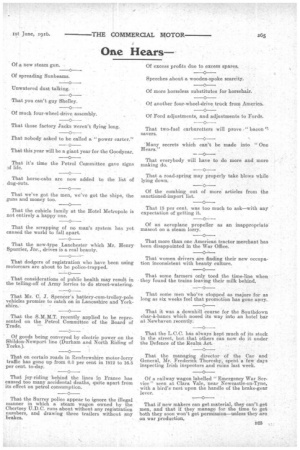 Page 3, 1st June 1916 —
One Hears
Close
Of a new steam gun.
Of spreading Sunbeams. Unwatered dust talking. That you can't guy Shelley.
Of much four-wheel-drive assembly.
That those factory Jacks weren't flying long.
That nobody asked to be called a "power carter." That this year will be a giant year for the Goodyear.
That it's time the Petrol Committee gave signs A life.
That horse-cabs are now added to the list of dug-outs.
That we've got the men, we've got the ships, the guns and money too.
That the cubicle family at the Hotel Metropole is not entirely a happy one.
That the scrapping of no man's system has yet. caused the world to fall apart.
That the new-type Lanchester which Mr. Henry Spurrier, Inr., drives is a real beauty.
That dodgers of registration who have been using motorcars are about to be police-trapped.
That considerations of public health may result in the telling-off of Army lorries to do street-watering.
That Mr. C. J. Spencer's battery-cure-trolley--pole vehicles promise to catch on in Lancashire and Yorkshire.
That the S.M.M.T. recently applied to be represented on the Petrol Committee of the Board of Trade.
Of goods being conveyed by electric power on the Shildon-Newport line (Durham and North Riding of Yorks.).
That on certain roads in Ecofrewshire motor-lorry traffic has gone up from 0.0 per cent in 1912 to 16.5 per cent. to-day.
That joy-riding behind the lines in France has caused too many accidental deaths, quite apart from its effect on petrol consumption.
That the Surrey police appear to ignore the illegal manner in which a steam wagon owned by the Chertsey U.D.C. runs about without any registration numbers, and drawing three trailers without any brakes. Of excess profits due to excess spares.
Speeches about a wooden-spoke scarcity.
Of more horseless substitutes for horsehair.
Of another four-wheel-drive truck from America.
Of Ford adjustments, and adjustments to Fords.
That two-fuel carburetters will prove "bacon 't savers.
'Many secrets which can't be made into "One Hears.'
That everybody will have to do more and more making do.
That a road-spring may properly take blows while lying down.
Of the combing out of more articles from the sanctioned-import list.
That 15 per cent. was too much to ask—with any expectation of getting it.
Of an aeroplane propeller as an inappropriate mascot on a steam lorry.
That more than one American tractor merchant has been disappointed in the War Office.
That women drivers are finding their new occupation inconsistent with beauty culture.
That some farmers only toed the time-line when they found the trains leaving their milk behind.
That smile men who've stopped as majors for as long as six weeks feel that promotiOn has gone awry.
That it was a downhill course for the Southdown char-h-bancs which nosed its way into an hotel bar at Newhaven recently.
That the L.C.C. has always kept much of its stock in the street, but that 'others Can now do it under the Defence of the Realm. Act.
That the managing director of the Car and General, Mr. Frederick Thoresby, spent a few days inspecting Irish inspectors and ruins last week.
Of a railway wagon labelled "Emergency War Service" seen at Clara Tale, near Newcastle-on-Tyne, with a bird's nest upon the handle of the brake-gear lever.
That if new makers can get material, they can't get men, and that if they manage for the time to get both they soon won't get permission—unless they are on war production.