The Purchase Department.
1st June 1916
Page 19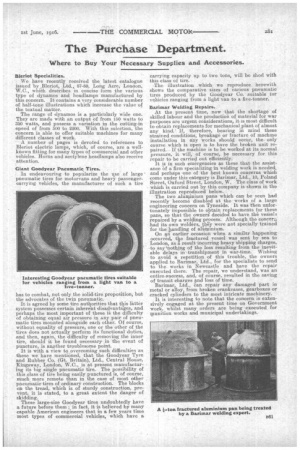 Page 19, 1st June 1916 —
The Purchase Department.
Close
Where to Buy Your Necessary Supplies and Accessories.
Bleriot Specialities.
. We have recently received the latest catalogue issued by Bleriot, Ltd., 57-59" Long Acre, London, W.C., whi i Mi describes n concise form the various type of dynamos and headlamps manufactured by this concern. It contains a very considerable number of half-tone illustrations which increase the value of the textual matter.
The range of dynamos is a particularly wide one. They are made with an output of from 150 watts to 350 watts, and possess a variation in the cutting-in speed of from 500 to 2200. With this selection, the concern is able to offer suitable machines for many different classes of work.
A number of pages is devoted to references to Bleriot electric lamps, which, of course, are a wellknown fitting for many types of commercial and other vehicles. Horns and acetylene headlamps also receive • attention.
Giant Goodyear Pneumatic Tires. In endeavouring to popularize the use of large' pneumatic tires for motorvans and heavy passengercarrying vehicles, the manufacturer of such a tire has to combat, notonly the solid-tire proposition, but the advocates of the twin pneumatic. It is agreed by some tire authorities that this litter system possesses certain inherent disadvantages, and perhaps the most important of these i the difficulty of obtaining equal air pressure in any pair of pneumatic tires mounted alongside each other. Of course, without equality of pressure, one or the other of the tires does not actually perform its functional duties, and then, again, the difficulty of removing the inner tire, should it be found necessary in the event of puncture, is another troublesome point.
It is with a view to overcoming such difficulties as these we have mentioned, that the Goodyear Tyre and Rubber Co. (Gt. Britain), Ltd., Central House, Kingsway, London, W.C.' is at present manufacturing its big single pneumatic tire. The possibility of this class of tire being easily punctured is, of course, much more remote than in the case of most other pneumatic tires of ordinary construction, The blocks on the tread, which is of sturdy construction, prevent, it is stated, to a great extent the danger of skidding.
These large-size Goodyear tires undoubtedly have a future before them ; in fact, it is believed by many capable American engineers that in a few years time most types of commercial vehicles, which have a carrying capacity up to two tons, will be shod with this class of tire.
The illustration which we reproduce herewith shows the comparative sizes of various pneumatic tires produced by the Goodyear Co. suitable ior vehicles ranging from a light van to a five-tanner.
Barimar Welding Repairs.
At the present time, now that the shortage of skilled labour and the production of material for war purposes are urgent considerations, it is most difficult to obtain replacements for mechanical plant of almost any kind." If, therefore, bearing in mind these strained conditions, breakage or fracture of machine installation in any works should occur, the. only course which is open is to have the broken unit repaired. lithe machine is to be worked at its normal pressure, it will, of course, be necessary for this repair to be carried out efficiently: It is in such emergencies as these that the assistance Of a firm specializing in welding work is needed, and perhaps one of the best known concerns which come under this category is Barimar, Ltd., 10, Poland Street, Oxford Street, London, W. The class of work which is carried out by this company is shown in the illustration reproduced below. The two aluminium pans which can be seen had recently become disabled at the works of a. large engineering concern on Tyneside. It was -then unfortunately impossible to obtain replacements for these pans, so that the owner g decided to have the vesse3s repaired by a welding process. Although the coneeru had its own welders, they were not specially trained for the handling of aluminium. On air earlier occasion when a similar happening occurred, the fractured vessel was sent by sea to London, as E. result incurring heavy shipping charges, to say 'nothing of the loss resulting from the ineuitable delays in transhipment in war-time. Wishing to avoid a repetition of this trouble, the owners appliesi.to Barimar, Ltd., for the specialists to .send to the works in Newcastle and have the repair executed there. The repair, we understand, was an entire,success, and, of .course" resulted in the saving of transit ,charges and loss of time.
Barimar, Ltd., Zan repair any damaged part in metal or alloy, from broken Crankcases, gearboxes or cracked cylinders to the most intricate machinery. It is interesting to note that the concern is extensively engaged at the present time on Government work, whilst many orders are being executed for munition works and municipal undertakings.