Commerci ltile aIvec
1st June 1916
Page 11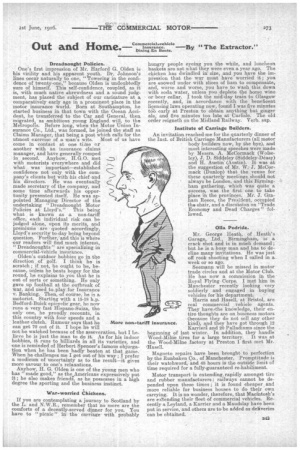 Page 11, 1st June 1916 —
Commerci ltile aIvec
Close
Out and Home.— insurance. --By Dreadnought Policies.
One's first impression of Mr. Harford G. Olden is his virility and his apparent youth. Dr. Johnson's lines occur naturally to ono, "Powering in the confidence of twenty-one," because Olden is undoubtedly
sure of himself. This self-confidence, coupled, as it is, with much native shrewdness and a sound Judgment, has placed the subject a our caricature at a comparatively early age in a prommeat place in the motor insurance world. Born at Southampton, he
started business in that town with the Ocean Acci
dent, he transferred to the Car and General, then migrated, as ambitious young England will, to the Metropolis. Before long, when the Motor Union Insurance Co., Ltd., was formed, he joined the staff as Claims Manager, that being a post which calls for the utmost exercise of a man's wits. Most of us have come in contact at one time or another with an insurance claims
manager, and have generally romped in second. Anyhow, H.G.O. met with motorists everywhere and did what was• important—established eonfidenee not only with the company's clients but with his chief -and his directors. Be was eventually
made secretary of the company, arid some time afterwards his opportunity presented itself. He was appointed Managing Director of the undertaking " Dreadnought Motor Policies at Lloyd's." This being what is known as a non-tariff
office, each individual risk can be
judged alone, upon its merits, and premiums are quoted accordingly, Lloyd's security to-day being beyond question. Further; -and this is where our readers will find much interest, "Dreadnoughts" are specializing in commercial-vehicle insurance.
Olden'.s outdoor hobbies go in the direction of golf. I think he is scratch ; if not, he ought to be, because, unless he beats bogey for the round, he explains to you that he is out of sorts or something. He only gave up football at the outbreak of war, and used to play for Insurance v. Banking. Then, of course, he is a motorist. Starting with a 1548 h.p. Bedford-Buick epicyclic gear, he now runs a very fast Hispano-Suiza, the only one, he proudly recounts, in this country with four speeds and a leather clutch. Rumour says that he can get 70 out of it. I hope he will not be watched because of the asseveration, but I believe he is just the man to do it As for his indoor hobbies, it runs to billiards in all its varieties, and one is reminded of Herbert Spencer's famous objurgation when he has been badly beaten at that game. When he challenges me I get out of his way ; I prefer a modicum of uncertainty as to the result—it gives more savour to one's relamations,
Anyhow, H. G. Olden is one of the young men who has "made good," as the Americans expressively put ; he also makes friends, as he possesses in a higlt degree the sporting and the business instinct.
War-worried Chickens.
If you are contemplating a journey to Scotland by the L. and .N.W.R., remember that no more are the comforts of a decently-served dinner for you You have to " pitnic" inthe carriaaewith prciba,bly
hungry people eyeing you the while, and luncheon baskets are net what they were even a year ago. The chicken has dwindled in size, and you have the impression that the. war must have worried it; you are snowed under with slices of ham to compensate, and, worse and worse, you have to wash this down with soda water, unless you deplete the home wino or beer cellar. I took the mid-day train to Glasgow recently, and, in accordance with the beneficent licensing laws operating now, found I was five minutes to early at PrestOn to obtain anything but ginger ale, and five minutes too late at Carlisle. The old order reigneth on the Midland Railway. Verb. sap.
-Institute of Carriage Builders.
An invitation reached me for the quarterly dinner of the Inst. of British Carriage Manufacturers (all motor body builders now, by the bye), and most interesting speeches were made by Messrs. A. McCormack (Wolseley), J. D. Siddeley (Siddeley-Deasy) and H. Austin' (Austin). It was at the suggestion of Mr. W. J. McCormack (Dunlop) that the venue for these quarterly meetings should not always be London, and. this Birmingham gathering, which was quite a success, was the first, one to take Place in the provinees, Mr. J. Gras ham Reece, the President, occupied . the chair, and a discuSsion on "Trade Economy and Dead Charges" folhalve d.
011a Podrida.
Mr. George Heath, of Heath's Garage, Ltd., Birmingham,
crack shot and is in much demand ; but he is a busy 'man and has to decline many invitations. He was just off rook shooting when I called in a.
week or so ago. . Seernann will be missed in motor trade circles and at the Motor Club. He has now a commission in the Royal Flying Corps. I met him in Manchester recently looking very soldierly and engaged in buying vehicles for his department.
Harris and Hasell, at Bristol, are real commercial vehiple agents. They havesthe knowledge, their entire thoughts are on business motors (because they do not sell any other kind), and they have got through 12 KarrierA and 2 0 Palladiums since the beginning of last winter. In addition, they handle Wood-Milne tires for a large territory. It was at the Wood-Milne factory at Preston I first met Mr. .Hasell.
Magneto repairs have been brought to perfection by the Runbaken Co., of Manchester. Promptitude is their watchword, and 48 hours is the outside limit of time required for a fully-guaranteed re-habiliment.
Motor transport is extending, rapidly amongst tire and rubber manufacturers : railways cannot be depended upon these times ; it is found cheaper and more reliable for business houses to do their own carrying. It is no wonder, therefore, that Macintosh's are extending their fleet of commercial vehicles. Recently a Leyland, a Karrier and a Maudslay have been put in service, and others are to be added as deliveries can he obtained.