Answers to Queries.
1st July 1909
Page 20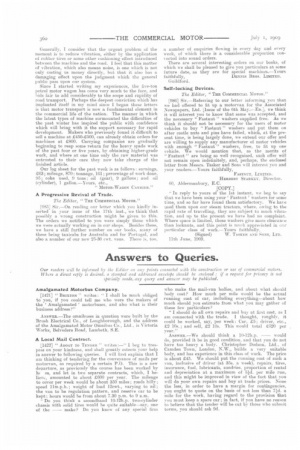 Page 20, 1st July 1909 —
Answers to Queries.
Close
Our readers well be informed by the Editor on any points connected with the construction OY use of commercial motors. Where a direct reply is desired, a stamped and addressed enoeloPe should be enclosed : if a request for privacy is not specially made, any query «nd answer may be published.
Amalgamated Motorbus Company.
[1421] " BRIXTON " writes: " I shall be much obliged to you, if you could tell me who were the makers of the 'Amalgamated ' motorbuses, and also what is their business address?"
ANSWER.—The omnibuses in question were built by the Brush Electrical Co., of Loughborough, and the address of the Amalgamated Motor Omnibus Co., Ltd., is Victoria Works, Belvedere Road, Lambeth, S.E.
A Local Mail Contract.
[1422] " ABOUT TO TENDER " writes:—" I be to trespass on your kindness, and shall greatly esteem your help in answer to following queries. I will first explain that I am thinking of tendering for the conveyance of mails per motorvan, as required by a certain P.O. This is a new departure, as previously the course has been worked by hr es, and let in two separate contracts, which, I he amounted to about 2600 per year. The mileage to cdver per week would be about 350 miles; roads hilly; speed 11m.p.h.; weight of load 12cwt., varying to nil; the van to be regulation pattern, and reserve ear to be kept; hours would be from about 7.30 p.m. to 9 a.m.
" Do you think a secondhand 10-1211.p. two-cylinder chassis with solid tires would be quite suitable—say, one of the — make P Do you know of any special firm who make the mail-van bodies, and about what should body cost? How much per mile would be the actual running cost of car, including everything—about how much should you estimate from what you may gather of these few pp,rticulars?
" I should do all own repairs and buy at first cost, as I am connected with the trade. I thought, roughly, it could be worked, say, per week : Car, L.5; driver, etc., 10s.; and self, £2 10s. This would total 42.520 per y'ear."
ANSWER.—We should think a 10-12h.p. would do, provided it be in good condition, and that you do not have too heavy a body. Christopher Dodson, Ltd.. of Camden Town, London, N.W., builds a very suitable body, and has experience in this class of work. The price is about 245. We should put the running cost of such a van, inclusive of driver (at 33s. a week), repairs, tires, insurance, fuel, lubricants, sundries, proportion of rental and depreciation at a maximum of 5id. per mile run, and this might be improved in view of the fact that you will do your own repairs and buy at trade prices. None the less, in order to have a margin for contingencies, you ought to quote on the basis of not less than 7N. a mile for the work, having regard to the provision that you most keep a spare ear; in fact, if you have no reason to believe that the tender will be cut by those who submit terms, you should ask 9d.