News and Comment.
1st July 1909
Page 10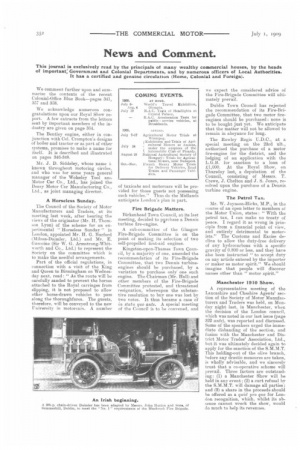 Page 11
Page 12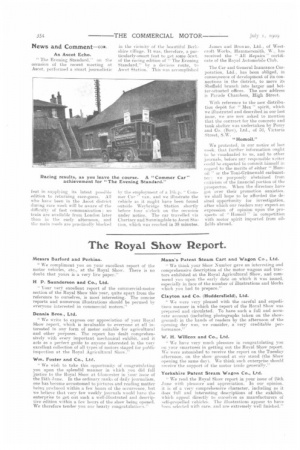 Page 13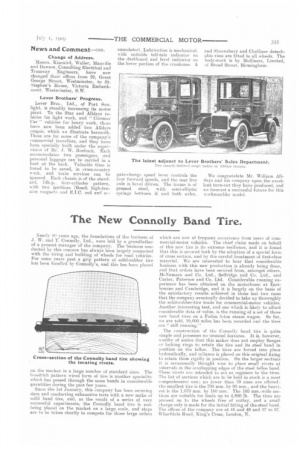 Page 10, 1st July 1909 —
News and Comment.
Close
Keywords :
Dearborn, Michigan
,
Car Manufacturers
,
Alldays & Onions
,
Cyclecars
,
Ford Motor Company
,
Dennis Specialist Vehicles
,
Ascot
,
Society Of Motor Manufacturers And Traders
,
Lincoln
,
Manganese Bronze Holdings
This journal is exclusively read by the principals of many wealthy commercial houses, by the heads of important: Government and Colonial Departments, and by numerous officers of Local Authorities. It has a certified and genuine circulation (Home, Colonial and Foreign).
We comment further upon and summarise the contents of the recent Colonial-Office Blue Book—pages 341, 357 and 358.
We acknowledge numerous congratulations upon our Royal Show report. A few extracts from the letters sent by important members of the industry are given on page 354.
The Bentley engine, either in conjunction with Col. Crompton's designs of boiler and tractor or as part of other systems, promises to make a name for itself. It is described and illustrated on pages 346-348.
Mr. J. D. Siddeley, whose name known throughout motoring circles, and who was for some years general manager of the Wolseley Tool ano Motor Car Co., Ltd., has joined the Deasy Motor Car Manufacturing Co., Ltd., as joint managing director.
A Horseless Sunday.
The Council of the Society of Motor Manufacturers and Traders, at its meeting last week, after hearing the views of the originator (Mr. H. Thomon Lyon) of the scheme for an experimental " Horseless Sunday " in London, appointed Mr. H. G. Burford (Milnes-Daimler, Ltd.) and Mr. E. Gascoine (Sir W. G. Armstrong-Whitworth and Co., Ltd.) to represent the Society on the committee which is to make the needful arrangements.
Part of the official regulations, in connection with a visit of the King and Queen to Birmingham on Wednesday next, read : " As the route will be carefully sanded to prevent the horses attached to the Royal carriages from slipping, it is not proposed to allow other horse-drawn vehicles to pass along the thoroughfares. The guests, therefore, will be conveyed to the new n iversity in motorcars. A number of taxicabs and motorcars will be provided for those guests not possessing such vehicles." Thus do the Midlands anticipate London's plan in part.
Fire Brigade Matters.
Birkenhead Town Council, at its last meeting, decided to purchase a Dennis turbine fire-engine.
A sub-committee of the Glasgow Fire-Brigade Committee is on the point of making its selection of two self-propelled first-aid engines.
Kingston-upon-Thames Town Council, by a majority of one, amended the recommendation of its Fire-Brigade Committee, that two Dennis turbineengines should be purchased, by a variation to purchase only one such engine. The Chairman (Mr. Hall) and other members of the Fire-Brigade Committee protested, and threatened resignation, whereupon the substantive resolution to buy one was lost by two votes. It thus became a case of in static quo ante. A special meeting of the Council is to he eonvened, and
we expect the considered advice of the Fire-Brigade Committee will ultimately prevail.
Dublin Town Council has rejected the recommendation of its Fire-Brigade Committee, that two motor fireengines should be purchased : none is to be bought just yet. We anticipate that the matter will not be allowed to remain in abeyance for long.
The Rowley Regis 11.D.C., at a special meeting on the 23rd ult., authorised the purchase of a motor fire-engine for the district, and the lodging of an application with the L.G.B. for sanction to a loan of 1:1,000. At the Royal Show, on Thursday last, a deputation of the Council, consisting of Messrs. T. Crewe, J. Chelton and J. S. Jones, resolved upon the purchase of a Dennis turbine engine.
The Patrol Tax.
Mr. W. Joyn.son-Hicks, M.P., in the course of an open letter to members of the Motor Union, states : "With the petrol tax, I can make no treaty of peace. I regard it as wrong in principle from a financial point of view, and entirely detrimental to motorists." The Customs and Excise decline to allow the duty-free delivery of any hydrocarbons with a specific gravity of 0.800 or less, and they have also been instructed " to accept duty on any article entered by the importer or maker as motor spirit." We should imagine that people will discover names other than " motor spirit,"
Manchester 1910 Show.
A representative meeting of the Lancashire and Cheshire Agents' section of the Society of Motor Manufacturers and Traders was held, on Monday night last, in Manchester, when the decision of the London council, which was noted in our last issue (page 322 ante), was reported and discussed. Some of the speakers urged the immediate disbanding of the section, and fusion with the Manchester and District Motor Trades' Association, Ltd., but it was ultimately decided again to apply for the sanction of the S.M.M.T.
holding-out of the olive branch, before any drastic measures are taken, is wholly advisable, and we sincerely trust that a co-operative scheme will prevail. Three factors are outstanding: (1) a Manchester Show will be held in any event ; (2) a curt refusal by the S.M.M.T. will damage all parties; and (3) a share in the proceeds should be offered as a quid pro quo for London recognition, whidi, whilst its absence cannot wreck the show, would do much to help its revenues.
The Driver's Orders.
Judge Emden, at Lambeth County Court, has held that a motorcar driver has no implied authority to order repairs on his master's account—except in proved cases of emergency.
"Stars" in London.
The Star Motor Agency, Ltd., of 16, Upper St. Martin's Lane, W.C., which is efficiently managed by Mr. F. It. Goodwin, has taken extensive showroom and garage accommodation at 24-26, Long Acre, W.C., where a complete repair equipment will be installed.
A Large Dennis Fleet.
MacNamara and Co., Ltd., the large motor and general contractor, now has 20 Dennis vans in regular service. Nine of these are illustrated below, and it may be noted that they are for snail work. The vehicles are largely, though not exclusively, used in the conveyance of mails, both locally and over long distances, but 3IaeNamara's excellent system of motor maintenance has also brought to it a growing volume of private trade with firms such as Messrs. Maw, on and Sons.
Agricultural Organisation Society.
The income of the Agricultural Organisation Society, for the year ended 31st December last, was £2,527, and this exceeded the total expenditure by a matter of a bare £50. No reference is made to motor vehicles in the work of the year, and the principal effective result appears to be the conclusion of negotiations with the Board of Agriculture for an annual grant of not less than £1,200 per annum, payable quarterly, for a period of three years from the 1st April, 1909, in connection with the society's work on behalf of the small holdings movement. The development of co-operation, for the purchase of farmers' stores, and the sale of dairy and other produce, is progressing satisfactorily : the writer certainly hopes, as a guarantor to this society's funds for the past several years, that success will crown the efforts of its Secretary and Committee.
Clarke's Lincoln Cranks,
We had hoped to see last week at Gloucester some examples of the lighter classes of work turned out by Clarke's Crank and Forge Co., Ltd., of Lincoln, but upon the stand of W. Sisson and Co., Ltd., we found only three traction engine crankshafts from the old-established Lincoln Forge. Two of the crankshafts were for compound engines, whilst the third had but a single throw. This company is well equipped for the making of all kinds of engine forgings from the smallest of single-throw crankshafts up to the largest six-throw shaft, or of other forgings having a gross weight not exceeding five tons. The examples which were exhibited were typical of the excellent material and workmanship that characterise the productions of this Lincoln company.
Data from Prices.
Price's Patent Candle Company, Limited, Belmont Works, Battersea, to whose exhibit at the recent Royal Show at Glow-ester we drew special attention in our report of that event, has sent to us an interesting table of results of tests carried out by the new oil tester which was on the company's stand. We hope to deal with these data, at some length, and to describe the functions, in an early
i
the functions, in an early
i
An Ascot Echo.
" The Evening Standard," on the occasion of the recent meeting at Ascot, performed a smart journalistic feat in supplying its latest possible edition to returning race-goers. All who have been in the Ascot. district during race week will be aware of the difficulty of fast communication : no train are available from London later than in the early afternoon, and the main roads are practically blocked in the vicinity of the beautiful Berkshire village. It was, therefore, a particularly-smart feat to get some ewt. of the racing edition of " The Evening Standard," by a devious route, to Ascot Station. This was accomplished l>y the employment of a " Com met. Car " van, and we illustrate the vehicle as it might have been found outside Weybridge Station shortly before four o'clock on the occasion under notice. The car travelled via Chertsey and Sunningdale to Ascot Station, which was reached in 38 minutes. James and .Browne. Ltd., of Westcroft Works, Hanunernith, 'W., has received the " All Repairs " certificate of the Royal Automobile Club.
The Car and General Insurance Corporation, Ltd., has been obliged, in consequence of development of its connections in the district, to move its Sheffield branch into larger and better-situated offices. The new address is Parade Chambers, High Street.
With reference to the new distribution depot for " Mex " spirit, which we illustrated and described in our last issue, we are now asked to mention that the contract for the concrete and tank shelter was undertaken by Perry and Co. (Bow), Ltd., of 56, Victoria Street, S.W.
"Homan."
We protested, in our notice of last week. that further information ought to be vouchsafed to us, and to other journals, before any responsible writer could he expected to commit himself in regard to the merits of either " Hornoil or the Toni-Griinewald carburetter we purposely abstained from criticism of the financial portion of the prospectus. When. the directors have got over their promotion anxieties, we shall hope to be afforded the desired opportunity for investigation, after which our readers may expect :an expression of opinion upon the prospects of " Homoil "iii competition with motor spirit imported from oilfields abroad.
Change of Address.
Messrs_ Kineaird, Waller, Manville and Dawson, Consulting Electrical and Tramway Engineers, have now changed their offices from 29, Great George Street, Westminster, to St. Stephen's House, Victoria Embankment, Westminster, S.W.
Lever Brothers' Progress.
Lever Bros., Ltd., of Port Sunlight, is steadily increasing its motor plant. To the Star and Alldays vehicles for light work, and " Commer Car " vehicles for heavy work, there have now been added two Alldays coupes, which we illustrate herewith. These are for some of the company's commercial travellers, and they have been specially built under the supervision of Mr. .T. W. Roebuck. Each accommodates two passengers, and personal luggage can be carried in a hoot at the back. Valuable time is found to be saved, in cross-country work, and train services can he ignored. Each chassis is of the standard, 14h.p four-cylinder pattern, with two ignitions (Bosch high-tension magneto and E.I.C. coil and ac
cumulator). Lubrication is mechanical, with suitable tell-tale indicator on the dashboard and level indicator on the lower portion of the crankcase. A gate-change speed lever controls the four forward speeds, and the rear live axle is bevel driven. The frame is of pressed steel, with semi-elliptic springs between it and both axles, and Shrewsbury and Challiner detachable rims are fitted to all wheels. The body-work is by Mulliners, Limited, of Broad Street. Birmingham.
We congratulate Mr. William Alldays and his company upon the excellent turn-out they have produced, and we forecast a successful future for this workmanlike model.
Tags
Organisations
:
Agricultural Organisation Society
,
Motor Union
,
District Motor Trades' Association
,
Board of Agriculture
,
London council
,
Town Council
,
Organisation Society
,
Society of Motor Manufacturers and Traders
,
Dublin Town Council
,
Royal Automobile Club
,
Glasgow Fire-Brigade Committee
,
Lambeth County Court
,
Birkenhead Town Council