Dip plans will hurt Terators, says FTA
1st January 1983
Page 7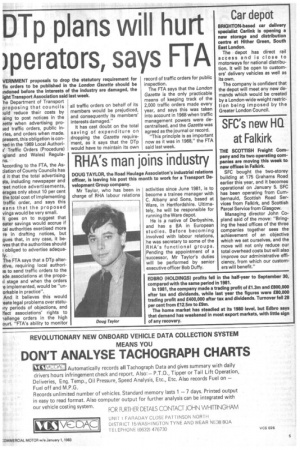 Page 7, 1st January 1983 —
Dip plans will hurt Terators, says FTA
Close
VERNMENT proposals to drop the statutory requirement for fic orders to be published in the London Gazette should be indoned before the interests of the industry are damaged, the ight Transport Association said last week.
• he Department of Transport proposing that councils iuld reduce their costs by 'sing to post notices in the rette when advertising proaed traffic orders, public inries, and orders when made. present, this obligation is conled in the 1969 Local Authori3' Traffic Orders (Procedure) 'gland and Wales) Regula
ns.
kccording to the FTA, the As:iation of County Councils has d it that the total advertising sts, including newspaper and .eet notice advertisements, erages only about 10 per cent the total cost of implementing traffic order, and says this eans that the proposed vings would be very small.
It goes on to suggest that eater savings would accrue if :al authorities exerdised more re in drafting notices, but gues that, in any case, it beyes that the authorities should obliged to advertise adequaly.
The FTA says that a DTp alter'five, requiring local authorias to send traffic orders to the ade associations at the propoil stage and when the orders la implemented, would be "unorkable in practice".
And it believes this would .eate legal problems over statuiry periods of objections, and Ffect associations' rights to lallenge orders in the high ourt. "FTA's ability to monitor
all traffic orders on behalf of its members would be prejudiced, and consequently its members' interests damaged."
It has cast doubt on the total saving of expenditure on ,dropping the Gazette requirement, as it says that the DTp would have to maintain its own
record of traffic orders for public inspection.
The FTA says that the London Gazette is the only practicable means of keeping track of the 2,000 traffic orders made every year, and says this was taken into account in 1968 when traffic management powers were decentralised, and the Gazette was agreed as the journal or record.
"This principle is as important now as it was in 1968," the FTA said last week.