Canada launches research project
1st January 1983
Page 6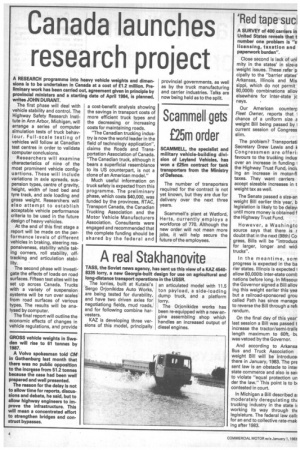 Page 6, 1st January 1983 —
Canada launches research project
Close
A RESEARCH programme into heavy vehicle weights and dimensions is to be undertaken in Canada at a cost of £1.2 million. Preliminary work has been carried out, agreement given in principle by provincial ministers and a starting date of April 1984, is planned, writes JOHN DURANT.
The first phase will deal with vehicle stability and control. The Highway Safety Research Institute in Ann Arbor, Michigan, will arrange a series of computer simulation tests of truck behaviour. Full-scale testing of vehicles will follow at Canadian test centres in order to validate computer conclusions.
Researchers will examine characteristics of nine of the most prominent vehicle configuartions. These will include variations in axle spreads, suspension types, centre of gravity, height, width of load bed and tyre track, and axle loading and gross weight. Researchers will also attempt to establish acceptable vehicle performance criteria to be used in the future design of heavy vehicles.
At the end of this first stage a report will be made on the performance levels of different vehicles in braking, steering res pensiveness, stability while taking corners, roll stability, offtracking and articulation stability.
The second phase will investigate the effects of loads on road surfaces. Fifteen test sites will be set up across Canada. Trucks with a variety of suspension systems will be run over scales from road surfaces of various types. The results will be analysed by computer.
The final report will outline the economic effects of changes in vehicle regulations, and provide a cost-benefit analysis showing the savings in transport costs of more efficient truck types and the decreasing or increasing costs for maintaining roads.
"The Canadian trucking industry is now the world leader in the field of technology application", claims the Roads and Transportation Association of Canada. "The Canadian truck, although it bears a superficial resemblance to its US counterpart, is not a clone of an American model."
Much useful information on truck safety is expected from this programme. The preliminary phase, which costs $40,000, was funded by the provinces, RTAC, Transport Canada, the Canadian Trucking Association and the Motor Vehicle Manufacturers Association. Consultants were engaged and recommended that the complete funding should be shared by the federal and provincial governments, as well as by the truck manufacturing and carrier industries. Talks are now being held as to the split.