Supervision key to success story
1st January 1983
Page 54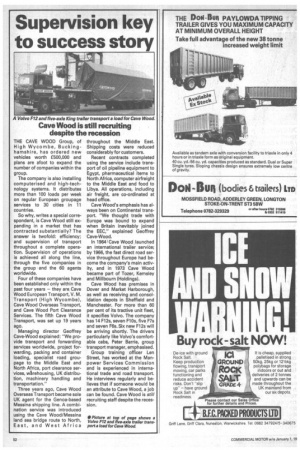 Page 54, 1st January 1983 —
Supervision key to success story
Close
Cave Wood is still recruiting despite the recession
THE CAVE WOOD Group, of High Wycombe, Buckinghamshire, has ordered new vehicles worth £500,000 and plans are afoot to expand the number of companies within the group.
The company is also installing computerised and high-technology systems. It distributes more than 100 loads per week on regular European groupage services to 30 cities in 11 countries.
So why, writes a special correspondent, is Cave Wood still expanding in a market that has contracted substantially? The answer is twofold: efficiency; and supervision of transport throughout a complete operation. Supervision of operations is achieved all along the line, through the five companies in the group and the 60 agents worldwide.
Four of these companies have been established only within the past four years — they are Cave Wood European Transport, V. M. Transport (High Wycombe), Cave Wood Overseas Transport, and Cave Wood Port Clearance Services. The fifth Cave Wood Transport, was set up 19 years ago.
Managing director Geoffrey Cave-Wood explained: "We provide transport and forwarding services worldwide, project forwarding, packing and container loading, specialist road groupage to the Middle East and North Africa, port clearance services, whrehousing, UK distribution, machinery handling and transportation."
Three years ago, Cave Wood Overseas Transport became sole UK agent for the Genoa-based Messina shipping line. A combination service was introduced using the Cave Wood/Messina land sea bridge route to North, East, and West Africa throughout the Middle East. Shipping costs were reduced considerably for customers.
Recent contracts completed using the service include transport of oil pipeline equipment to Egypt, pharmaceutical items to North Africa, computer airfreight to the Middle East and food to Libya. All operations, including air freight, are co-ordinated at head office.
Cave Wood's emphasis has always been on Continental transport. "We thought trade with Europe was bound to expand when Britain inevitably joined the EEC," explained Geoffrey Cave-Wood.
In 1964 Cave Wood ,launched an international trailer service; by 1966, the fast direct road service throughout Europe had become the company's main activity, and in 1973 Cave Wood became part of Tozer, Kemsley and Millbourn (Holdings).
Cave Wood has premises in Dover and Market Harborough, as well as receiving and consolidation depots in Sheffield and Manchester. For more than 60 per cent of its tractive unit fleet, it specifies Volvo. The company has 14 F12s, seven F10s, five F7s and seven F6s. Six new F12s will be arriving shortly. The drivers particularly like Volvo's comfortable cabs, Peter Barrie, group transport manager, emphasised.
Group training officer Len Street, has worked at the Manpower Services Commission and is experienced in international trade and road transport. He interviews regularly and believes that if someone would be an attribute to Cave Wood, a job can be found. Cave Wood is still recruiting staff despite the recession.