The fascinating Thirties...
1st January 1983
Page 52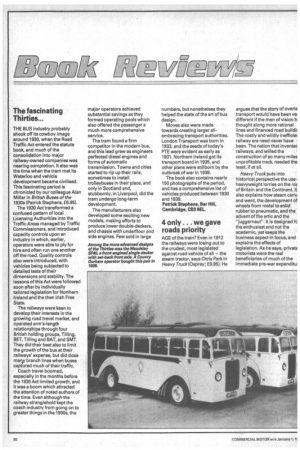 Page 52, 1st January 1983 —
The fascinating Thirties...
Close
THE BUS industry probably shook off its cowboy image around 1930, when the Road Traffic Act entered the statute book, and much of the consolidation into major railway-owned companies was nearing completion. It also was the time when the tram met its Waterloo and vehicle development became civilised. This fascinating period is chronicled by our colleague Alan Millar in British Buses of the 1930s (Patrick Stephens, f6.95).
The 1930 Act transformed a confused pattern of local Licensing Authorities into the Traffic Areas managed by Traffic Commissioners, and introduced capacity controls upon an industry in which, earlier, operators were able to ply for hire and often run one another off the road. Quality controls also were introduced, with vehicles being subjected to detailed tests of their dimensions and stability. The lessons of this Act were followed soon after by individually tailored legislation for Northern Ireland and the then Irish Free State.
The railways were keen to develop their interests in the growing road travel market, and operated arm's-length relationships through four British holding groups, Tilling, BET, Tilling and BAT, and SMT. They did their best also to limit the growth of the bus at their railways' expense, but did close marky branch lines when buses captured much of their traffic.
Coach travel boomed, especially in the months before the 1930 Act limited growth, and it was a boom which attracted the attention of noted authors of the time. Even although the railway stranglehold kept the coach industry from going on to greater things in the 1930s, the major operators achieved substantial savings as they formed operating pools which also offered the passenger a much more comprehensive service.
The tram found a firm competitor in the modern bus, and this lead grew as engineers perfected diesel engines and forms of automatic transmission. Towns and cities started to rip up their rails, sometimes to install trolleybuses in their place, and only in Scotland and, stubbornly, in Liverpool, did the tram undergo long-term development.
The manufacturers also developed some exciting new models, making efforts to produce lower double-deckers, and chassis with underfloor and side engines. Few sold in large numbers, but nonetheless they helped the state of the art of bus design.
Moves also were made towards creating larger allembracing transport authorities. London Transport was born in 1933, and the seeds of today's PTE were evident as early as 1931. Northern Ireland got its transport board in 1935, and other plans were stillborn by the outbreak of war in 1939.
The book also contains nearly 150 photographs of the period, and has a comprehensive list of vehicles produced between 1930 and 1939.
Patrick Stephens, Bar Hill, Cambridge, CB3 8EL.