Express pacemaker
1st January 1983
Page 29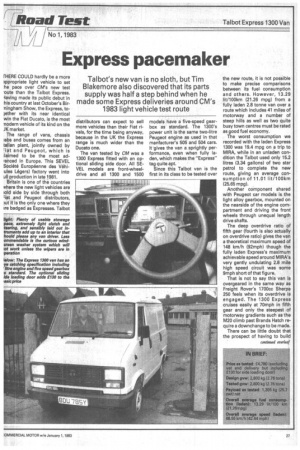 Page 30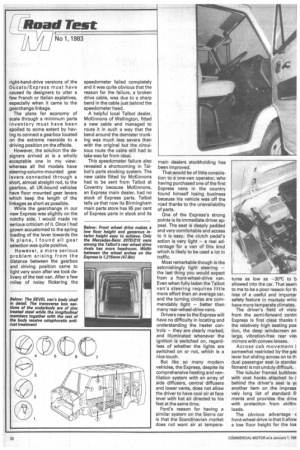 Page 31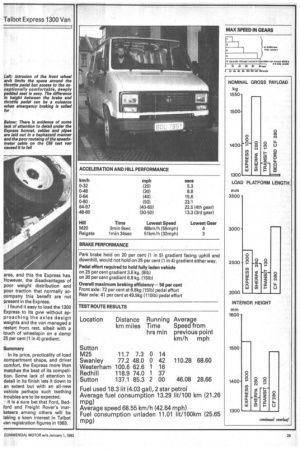 Page 29, 1st January 1983 —
Express pacemaker
Close
Keywords :
Car Manufacturers
,
Vans
,
Talbot Express
,
Fiat Ducato
,
Talbot
,
Peugeot
,
Hatchbacks
,
Overdrive
,
Gear Stick
,
Peugeot 305
,
Peugeot J5
Talbot's new van is no sloth, but Tim Blakemore also discovered that its parts supply was half a step behind when he made some Express deliveries around CM's 1983 light vehicle test route
1HERE COULD hardly be a more Ippropriate light vehicle to set he pace over CM's new test 'mite than the Talbot Express. -laving made its public debut in his country at last October's Birningham Show, the Express, tolather with its near identical win the Fiat Ducato, is the most nodern vehicle of its kind on the JK market.
The range of vans, chassis :can and buses comes from an talian plant, jointly owned by 'jet and Peugeot, which is laimed to be the most ad!zinced in Europe. This SEVEL Societe Europeenne des Vehlules Legers) factory went into ull production in late 1981.
Britain is one of the countries where the new light vehicles are iold side by side through both 'jet and Peugeot distributors, )ut it is the only one where they ire badged as Expresses. Talbot distributors can expect to sell more vehicles than their Fiat rivals, for the time being anyway, because in the UK the Express range is much wider than the Ducato one.
The van tested by CM was a 1300 Express fitted with an optional sliding side door. All BEVEL models are front-wheeldrive and all 1300 and 1500 models have a five-speed gearbox as standard. The 1300's power unit is the same two-litre Peugeot engine as used in that rnanfacturer's 505 and 504 cars. It gives the van a sprightly performance, even when fully laden, which makes the "Express" tag quite apt.
Since this Talbot van is the first in its class to be tested over the new route, it is not possible to make precise comparisons between its fuel consumption and others. However, 13.29 lit/100km (21.26 mpg) from a fully laden 2.8 tonne van over a route which includes 41 miles of motorway and a number of steep hills as well as two quite busy town centres must be rated as good fuel economy.
The worst consumption we recorded with the laden Express 1300 was 19.4 mpg on a trip to MIRA, while in an unladen condition the Talbot used only 15.2 litres (3.34 gallons) of two star petrol to complete the new route, giving an average consumption of 11.01 lit/100km (25.65 mpg).
Another component shared with Peugeot car models is the light alloy gearbox, mounted on the nearside of the engine compartment and driving the front wheels through unequal length drive shafts.
The deep overdrive ratio of fifth gear (fourth is also actually on overdrive ratio) gives the van a theoretical maximum speed of 148 km/h 92mph) though the fully laden Express's maximum achievable speed around MIRA's very gently undulating 2.8 mile high speed circuit was some 9mph short of that figure.
That is not to say this van is overgeared in the same way as Freight Rover's 1700cc Sherpa 250 feels when its overdrive is engaged. The 1300 Express cruises easily at 70mph in fifth gear and only the steepest of motorway gradients such as the M20 climb past Brands Hatch require a downchange to be made.
There can be little doubt that the prospect of having to build right-hand-drive versions of the Ducato/Express must have caused its designers to utter a few French or Italian expletives, especially when it came to the gearchange linkage.
The plans for economy of scale through a minimum parts inventory must have been spoiled to some extent by having to connect a gearbox located on the extreme nearside to a driving position on the offside. .
However, the solution the designers arrived at is a wholly acceptable one in my view: whereas all Ihd models have steering-column-mounted gear levers connected through a short, almost straight rod, to the gearbox, all UK-bound vehicles have floor mounted gear levers, which keep the length of the linkages as short as possible.
While the gearchange in our new Express was slightly on the notchy side, I would made no serious criticism of it. Once I had grown accustomed to the spring loading of the lever towards the 3/4 plane, I found all gear selection was quite positive.
However, a more serious problem arising from the distance between the gearbox and driving position came to light very soon after we took delivery of the test van. After a few miles of noisy flickering the speedometer failed completely and it was quite obvious that the reason for the failure, a broken drive cable, was due to a sharp bend in the cable just behind the speedometer head.
A helpful local Talbot dealer, McKinnons of Wallington, fitted a new cable and managed to route it in such a way that the bend around the demister trunking was much less severe then with the original but the circuitous route the cable still had to take was far from ideal.
This speedometer failure also revealed a shortcoming in Talbot's parts stocking system. The new cable fitted by McKinnons had to be sent from Talbot at Coventry because McKinnons, an Express main dealer, had no stock of Express parts. Talbot tells us that now its Birmingham main parts store has 95 per cent of Express parts in stock and its main dealers stockholding been improved.
That would be of little consolation to a one-van operator, who having purchased one of the first Express vans in the country found himself losing business because his vehicle was off the road thanks to the unavailability of parts.
One of the Express's strong points is its immediate driver ap peal. The seat is deeply padded and very comfortable and access to it is easy; the clutch pedal's action is very light — a real advantage for a van of this kind which is likely to be used a lot in traffic.
Most remarkable though is the astonishingly light steering — the last thing you would expect from a front-wheel-drive van. Even when fully laden the Talbot van's steering requires little more effort than an average car, and the turning circles are commendably tight — better than many rear-wheel-drive vans.
Drivers new to the Express will have no difficulty in locating and understanding the heater con trols — they are clearly marked, and illuminated whenever the ignition is switched on, regardless of whether the lights are switched on or not, which is a nice touch.
But like so many modern vehicles, the Express, despite its comprehensive heating and ventilation system with an array of side diffusers, central diffusers and lower vents, does not allow the driver to have cool air at face level with hot air directed to his feet at the same time.
Ford's reason for having a similar system on the Sierra car is that the Scandinavian market does not want air at tempera has tures as low as —30°C to b allowed into the car. That seem to me to be a poor reason for th loss of a useful and importar safety feature in markets whic have more temperate climates.
The driver's field of visio from the semi-forward contrc Express is first class thanks t the relatively high seating pos tion, the deep windscreen an large, vibration-free rear vie% mirrors with convex lenses.
Across cab movement i somewhat restricted by the gea lever but sliding across on to th dual passenger seat a standar fitment) is not unduly difficult.
The tubular framed bulkheac with coat hooks attached to i. behind the driver's seat is yE another item on the impress vely long list of standard fii ments and provides the drive with protection from shiftin. loads.
The obvious advantage c front-wheel-drive is that it allow a low floor height for the loa area, and this the Express has. However, the disadvantages of poor weight distribution and poor traction that normally accompany this benefit are not present in the Express.
I found it easy to load the 1300 Express to its gvw without approaching the axles design weights and the van managed a restart from rest, albeit with a touch of wheelspin on a damp 25 per cent (1 in 4) gradient.
Summary In its price, practicality of load compartment shape, and driver comfort, the Express more than matches the best of its competition. Some lack of attention to detail in its finish lets it down to an extent but with an all-new vehicle perhaps such teething troubles are to be expected.
It is a sure bet that Ford, Bedford and Freight Rover's marketeers among others will be taking a keen interest in Talbot van registration figures in 1983.