Guide to commercia vehicle rental companies
1st January 1983
Page 12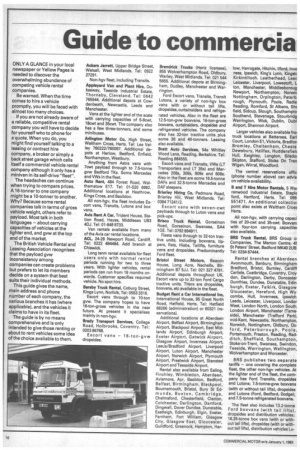 Page 13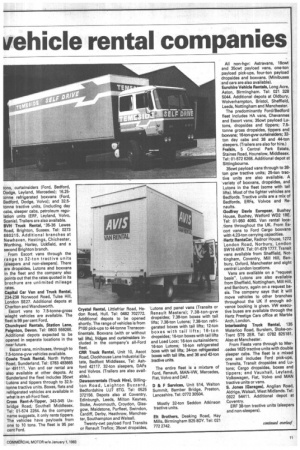 Page 14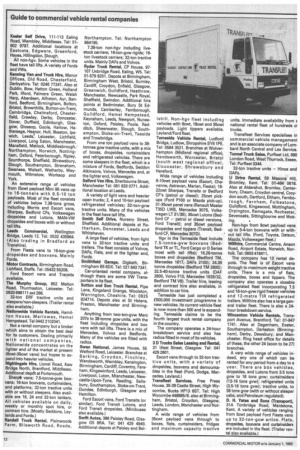 Page 12, 1st January 1983 —
Guide to commercia vehicle rental companies
Close
ONLY A GLANCE in your local newspaper or Yellow Pages is needed to discover the overwhelming abundance of competing vehicle rental companies.
Be warned. When the time comes to hire a vehicle promptly, you will be faced with almost too many choices.
If you are not already aware of a reliable, competitive rental company you will have to decide for yourself who to phone for a quote. When you do, you might find yourself talking to a leasing or contract hire company, a broker or simply a back street garage which calls itself a commercial vehicle rental company although it only has a minivan in its self-drive "fleet".
The headaches can continue when trying to compare prices. A 16-tonner to one company might be a 10-tonner to another. Why? Because some rental companies talk in terms of gross vehicle weight, others refer to payload. Most talk in both languages about carrying capacities of vehicles at the lighter end, and gvw at the top end of the market.
The British Vehicle Rental and Leasing Association recognises that the payload gvw inconsistency among companies can create problems but prefers to let its members decide on a system that best suits their individual methods.
This guide gives the name, ,main address and phone number of each company, the various branches it has (where applicable), and the vehicles it claims to have in its fleet.
The guide is by no means comprehensive and is only intended to give those renting or about to rent vehicles some idea of the choice available to them.
Ackers Jarrett, Upper Bridge Street, Walsall, West Midlands. Tel: 0922 27291.
Non-hgv fleet, including Transits.
Appleyard Van and Plant Hire, Dukesway, Teeside Industrial Estate, Thornaby, Cleveland. Tel: 0642 765544. Additional depots at Cowdenbeath, Newcastle, Leeds and Manchester.
Vans at the lighter end of the scale with carrying capacities of 6-8cwt, 18cwt and 35cwt. The company also has a few three-tonners, and some minibuses.
Arlington Motor Co, High Street, Waltham Cross, Herts. Tel: Lea Valley 760222/760097. Additional depots at Harlow, Bedford, Enfield, Northampton, Westbury.
Anything from Astra vans with 7cwt payload through to 7.5-tonne gvw Bedford TKs. Some Mercedes and VWs in the fleet.
Auto Rent, 484 Forest Road, Walthamstow E17, Tel: 01-520 6662. Additional locations at Heathrow, Kings Cross, and Basildon.
All non-hgv, the fleet includes Escort vans, Transits, Lutons and box vans.
Avis Rent A Car, Trident House, Station Road, Hayes, Middlesex UB3 4DJ. Tel: 01-6488733.
Van rentals available from many of the Avis car rental locations.
ACL, 24-26 Newport Road, Cardiff. Tel: 0222 484484. Add branch at Chiswick.
Long term rental available for fleet users only with normal rental periods running for two to three years. With lighter vehicles, rental periods can run from 18 months onwards. Customer specifies required vehicle. No spot hire.
Barsby Truck Rental, Coburg Street, Kings Lynn, Norfolk, Tel: 05533316.
Escort vans through to 10-ton gvw. The company hopes to have 16-ton-gross vehicles in the near future. At present it specialises mainly in non-hgv.
Brady Transport Services, College Road, Holbrooks, Coventry. Tel: 020386768.
Escort vans 16-ton-gvw dropsides. Brandrick Trucks (Hertz licensee), 855 Wolverhampton Road, Oldbury, Warley, West Midlands. Tel: 021 544 5655. Additional depots at Birmingham, Dudley, Manchester and Warrington.
Ford Escort vans, Transits, Transit Lutons, a variety of non-hgv box vans with or without tail lifts, dropsides,curtainsiders and refrigerated vehicles. Also in the fleet are 12.5-ton-gvw boxvans, 16-ton-gross boxvans, curtainsiders, dropsides and refrigerated vehicles. The company also has 32-ton tractive units plus some 36 and 40-tonners. Leasing also available.
Brett Auto Services, 54a Whitley Wood Lane, Reading, Berkshire. Tel: Reading 864555.
Escort vans and Transits, VWs (LT Transporters and LT 35$) and Mer cedes 208s, 308s, 809s and 609s. Also in the fleet are some 16.5-tonne DAFs and 32.5-tonne Mercedes and DAF sleepers.
Brierley Hiring Co, Pedmore Road, Brierley Hill, West Midlands. Tel: 0384 71241/2.
Escort vans with seven-cwt payloads through to Luton vans and pick-ups.
Brisco Truck Rental, Gorseinon Road, Gorseinon, Swansea, SA4 1GE. Tel: 0792894911.
Fiesta vans through to 32-ton tractive units, including boxvans, tip pers, flats, Hiabs, Tailifts, furniture vans and dropsides. Predominantly Ford fleet.
Bristol Street Motors, Beacon House, Long Acre, Nechells, Bir mingham 87 5JJ. Tel: 021 327 4791. Additional depots throughout UK. Escort vans up to 32-ton Ford Cargo tractive units. There are dropsides, boxvans, etc available in the fleet.
Budget Rent a Car International Inc, International House, 85 Great North Road, Hatfield, Herts. Tel: Hatfield 68266 (administration) or 60321 (reservations).
Additional locations at Aberdeen Airport, Belfast Airport, Birmingham Airport, Blackpool Airport, East Mid lands Airport, Edinburgh Airport, Exeter Airport, Gatwick Airport, Glasgow Airport, Inverness Airport, Leeds/Bradford Airport, Liverpool Airport, Luton Airport, Manchester Airport, Norwich Airport, Plymouth Airport, Prestwick Airport, Stansted Airport and Teesside Airport.
Rental also available from Ealing, Finchley, Wimbledon, Aberdeen, Aviemore, Ayr, Basildon, Bedford, Belfast, Birmingham, Blackpool, Bournemouth, Bristol, Bury St Ed munds, Buxton, Cambridge, Chelmsford, Chesterfield, Clacton, Colchester, Darlington, Dartford, Dingwall, Dover Dundee, Dunstable, Eastleigh, Edinburgh, Elgin, Exeter, Farnham, Fort William, Glasgow City, Glasgow East, Gloucester, Guildford, Greenock, Hampton, Har
low, Harrogate, Hitchin, Ilford, Inve ness, Ipswich, King's Lynn, Kingstc Kirkintilloch, Leatherhead, Leed Leicester, Liverpool, Lowestoft, L ton, Manchester, Middlesboroug Newport, Northampton, Norwic Nottingham, Orpington, Peterb, rough, Plymouth, Poole, Radle Reading, Romford, St Albans, ShE field, Sidcup, Slough, Southampto Southend, Stevenage, Stourbricfg Warrington, Wick, Dublin, Dubl Airport, Shannon Airport.
Larger vehicles also available froi truck locations at Battersea, Earl Court, London El, Victoria, Bradfon Bromley, Cheltenham, Chaste Dewsbury, Halifax, Huddersfielc Hull, Keighley, Longton, Silsdor Skipton, Stafford, Stoke On Tren Wigan, Wirral, Woodford.
The central reservations offic (phone number above) can advis. on vehicle availability.
B and T Hire Motor Rentals, 5 War renwood Industrial Estate, Staple ford, Hertford, Herts. Tel: 099; 551471. An additional collectioi point also exists at Waltham Cross Herts.
All non-hgv, with carrying capaci ties of 20-cwt and 35-cwt. Boxyan: with four-ton carrying capacitie; also available.
BRS Truck Rental, BRS Group ol Companies, The Merton Centre, 4F. St Peters' Street, Bedford MK40 2UB. Tel: 0234 67444.
Rental branches at Aberdeen Avonmouth, Banbury, Birmingham Bradford, Bristol, Burnley, Cardiff Carlisle, Coatbridge, Coventry, Croy don, Darlington, Derby, Doncaster Dumfries, Dundee, Dunstable, Edin. burgh, Exeter, Falkirk, Glasgow Gloucester, Hereford, High Wycombe, Hull, Inverness, Ipswich, Leeds, Leicester, Liverpool, London West, London North, London South, London Airport, Manchester (Tame. side), Manchester (Trafford Park), mid-Kent, Newcastle, Northampton, Norwich, Nottingham, Oldbury, Oxford, Peterborough, Poole, Portsmouth, Preston, Reading, Redditch, Sheffield, Southampton, Stoke-on-Trent, Swansea, Swindon, Teeside, Warrington, Wellington, Wolverhampton and Worcester.
BRS publishes two separate tariffs one covering the complete fleet, the other non-hgv vehicles. At the lighter end of the fleet, the company has Ford Transits, dropsides and Lutons; 7.5-tonne-gvw boxvans (with or without tail lifts), dropsides and Lutons (Ford, Bedford, Dodge);. and 7.5-tonne refrigerated boxvans.
The fleet also includes 13.2-tonne Ford boxvans (with tail lifts), dropsides and distribution vehicles; 16.25-tonne box vans (with or without tail lifts), dropsides (with or without tail lifts), distribution vehicles Lu tons, curtainsiders (Ford, Bedford, Dodge, Leyland, Mercedes); 16.25Ionne refrigerated boxvans (Ford, Bedford, Dodge, Volvo); and 32.5tonne tractive units, (including day cabs, sleeper cabs, petroleum regulation units (ERF, Leyland, Volvo, Scania). Trailers are also available. BVH Truck Rental, ' 35-36 Lewes Road, Brighton, Sussex. Tel: 0273 680215. Additional branches at Newhaven, Hastings, Chichester, Worthing, Honey, Uckfield, and a second Brighton branch.
From Escort vans through the range to 32-ton tractive units (sleepers and non-sleepers). There are dropsides, Lutons and boxvans in the fleet and the company also points out that the rates quoted in its brochure are unlimited mileage rates.
Capital Car Van and Truck Rental, 234-238 Norwood Road, Tulse Hill, London SE27. Additional depots at Charlton and Wandsworth.
Escort vans to 7.5-tonne-gross wieght vehicles are available. The fleet is 99 per cent Ford.
Churchyard Rentals, Station Lane, Paignton, Devon. Tel: 0803 559266. Additional depots expected to be opened in separate locations in the near future.
Escort vans, minibuses, through to 7.5-tonne-gvw vehicles available. Cowie Truck Rental, North Hylton Road, Sunderland. Tel: 0783 493665 or 491111. Van and car rental are also available at other depots. At Sunderland the fleet includes 35cwt Lutons and tippers through to 32.5tonne tractive units. Boxes, flats and refrigerated vehicles are available in what is an all-Ford fleet.
Cross Rent-A-Tipper, 343-345 Uxbridge Road, Southall Middlesex. Tel: 01-574 2264. As the company name suggests, it only rents tippers. The vehicles have payloads from one to 10 tons. The fleet is 95 per cent Ford. Crystal Rental, Littlefriar Road, Hedon Road, Hull. Tel: 0482 702772. Additional depots to be opened shortly. The range of vehicles is from P100 pick-ups to 44-tonne Transcontinentals. 8°)o/ens (with or without tail lifts), fridges and curtainsiders included in the company's all-Ford fleet.
CRR Truck Rental, Unit 10, Ascot Road, Clockhouse Lane Industrial Estate, Bedfont Middlesex. Tel: Ashford 42117. 32-ton sleepers, DAFs and Volvos. (Trailers are also available.).
,Dawsonrentals (Truck Hire), Billington Road, Leighton Buzzard, Bedfordshire LU7 8TG. Tel: 0525 372156. Depots also at Coventry, Edinburgh, Leeds, Milton Keynes, Stoke, Avonmouth, Croydon, Glasgow, Maidstone, Purfleet, Swindon, Cardiff, Derby, Heathrow, Manchester, Southampton and Walsall.
Twenty-cwt payload Ford Transits or Renault Trafics; 35cwt dropsides, Lutons and panel vans (Transits or Renault Masters); 7.38-ton-gvw dropsides; 7.38-ton boxes with tail lifts; 7.38-ton Lutons; 7.38-ton refrigerated boxes with tail lifts; 12-ton boxes with tail lifts; 16-ton dropsides; 16-ton boxes with tail lifts and Load Locs; 16-ton curtainsiders; 16-ton Lutons; 16-ton refrigerated boxs with tail lifts; 24-ton refrigerated boxes with tail lifts, and 36 and 42-ton tractive units.
The entire fleet is a mixture of Ford, Renault, MAN-VW, Mercedes, Fiat, Volvo and OAF.
D & F Services, Unit 514, Walton Summit, Bamber Bridge, Preston, Lancashire. Tel: 0772 30504, Mostly 32-ton Seddon Atkinson tractive units.
Elt Brothers, Deaking Road, Hay Mills, Birmingham B25 8DY. Tel: 021 772 2742. All non-hgv: Astravans, 18cwt and 35cwt payload vans, one-ton payload pick-ups, four-ton payload dropsides and boxvans. (Minibuses and cars are also available).
Euro hire Vehicle Rentals, Long Acre, Aston, Birmingham. Tel: 021 328 5044. Additional depots at Oldbury, Wolverhampton, Bristol, Sheffield, Leeds, Nottingham and Manchester.
The predominantly Ford/Bedford fleet includes HA vans, Cheyennes and Escort vans; 35cwt payload Lutons, dropsides and tippers; 7.5tonne gross dropsides, tippers and boxvans; 16-ton-gvw curtainsiders; 32ton day cabs and 38 and 44-ton sleepers. (Trailers are also for hire.) Fraikin, 5 Central Park Estate, Staines Road, Hounslow, Middlesex. Tel: 01-572 6268. Additional depot at Sittingbourne.
35cwt payload vans through to 38ton gcw tractive units; 25-ton tractive units are also available. A variety of boxvans, dropsides, and Lutons in the fleet (some with tail lifts). Most of the lighter vehicles are Bedfords. Tractive units are a mix of Bedfords, ERFs, Volvos and Renaults.
Godfrey Davis Europcar, Bushey House, Bushey, Watford WD2 1RE. Tel: 01-950 4080. Van rental locations throughout the UK. From Escort vans to Ford Cargo boxvans with 4.23-ton carrying capacities. -Hertz RentaCar, Radnor House, 1272 London Road, Norbury, London SW16 4XW. Tel: 01-679 1777. Transit vans available from Sheffield, Nottingham, Coventry, Mill Hill, Banbury, Oxford, Manchester and eight central London locations.
Vans are available on a "request basis". Lutons are also available from Sheffield, Nottingham, Mill Hill, and Banbury, again on a request basis. The company says that it will move vehicles to other branches throughout the UK if enough advance booking is given. VW executive buses are available through the Hertz Prestige Cars office at Marble 'Arch, London.
lnterleasing Truck Rental, 135 Waterloo Road, Burslem, Stoke-onTrent ST6 2ER. Tel: 0782 825181. Also at Manchester.
From Fiesta vans through to Mercedes 1625 tractive units with double sleeper cabs. The fleet is a mixed one and includes Ford pick-ups, Transits, Transit dropsides and Lutons; Cargo dropsides, boxes and tippers; and Vauxhall, Leyland, Volkswagen, Fiat, Volvo and MAN tractive units or vans.
S. Jones (Garages), Anglian Road, Aldrige, Walsall, West Midlands. Tel: 0922 54411. Additional depot at Coventry.
ERF 38-ton tractive units (sleepers and non-sleepers). Keeler Self Drive, 111-113 Ealing Road, Wembley, Middlesex. Tel: 01902 9797. Additional locations at Eastcote, Edgware, Greenford, Hayes, Hillingdon, plough.
All non-hgv. Some vehicles in the fleet have tail lifts. A variety of Fords and VWs.
Kenning Van and Truck Hire, Manor Offices, Old Road, Chesterfield, Derbyshire. Tel: 0246 77241. Also at Dublin, Bow, Hatton Green, Holland Park, Ilford, Palmers Green, Welsh Harp, Aberdeen, Alfreton, Ayr, Banford, Bedford, Birmingham, Bolton, Bristol, Brownhills, Burton-on-Trent, Cambridge, Chelmsford, Chesterfield, Crawley, Derby, Doncaster, Dover, Duffield, Edinburgh, Glasgow, Glossop, Goole, Harlow, Hathersage, Heapor, Hull, Ilkeston, Ipswich, Leeds; Leicester, Lichfield, Liverpool, Long Eaton, Manchester, Mansfield, Matlock, Middlesbrough, Northampton, Norwich, Nottingham, Oxford, Peterborough, Ripley, Scunthorpe, Sheffield, Shrewsbury, Slough, Southampton, Strensham, Swansea, Walsall, Wetherby, Weymouth, Wilmslow, Worksop and York.
An extensive range of vehicles from (5cwt payload Mini 95 vans up to 16-tonners with 9.5-10 ton payloads. Most of the fleet consists of vehicles below 7.38-tons gross, including Morris and Escort vans, Sherpas, Bedford CFs, Volkswagen dropsides and Lutons, MAN-VW dropsides and boxes with or without tail lifts.
Leeds Commercial, Wellington Bridge, Leeds 12. Tel: 0532 435964. (Also trading in Bradford as Transhire).
From Fiesta vans to 16-ton-gvw dropsides and boxvans. Mainly Fords.
Motor Contracts, Birmingham Road, Lichfield, Staffs. Tel: 05432 55208.
Ford Escort vans and Transits available.
The Murphy Group, 852 Melton Road, Thurmastort, Leicester. Tel; 0533 696111 ext 266.
32-ton ERF tractive units and sleepers/non-sleepers. (Trailer rental also available.)
Nationwide Vehicle Rentals, Hamilton House, Marlowes, Hemel Hempstead. Tel 0442 2102041.
Not a rental company but a broker which aims to obtain the best deal for its customers. Dealing primarily with national companies, Nationwide concentrates on the lighter end of the market at present (8cwt-35cwt vans) but hopes to expand into heavier vehicles.
Nightingale Hire, Lionel Road, Kew Bridge North, Brentford, Middlesex. Additional depdt at Portsmouth.
Sherpt vans; 7.5-tonne-gvw boxvans; 16-ton boxvans, curtainsiders, and platforms; 32-ton tractive units with or without sleepers. Also available are 16, 24 and 32-ton tankers. All vehicles available on daily, weekly or monthly spot hire, or contract hire. (Mostly Seddons, Leylands and Fords.) Randall Truck Rental, Plainwoods Farm, Blisworth Road, Roade, Northampton. Tel: Northampton 864195.
7.38-ton non-hgv including livestock carriers; 16-ton-gvw rigids; 16ton livestock carriers; 32-ton tractive units. Mainly DAFs and Volvos.
Ryder Truck Rental, CP House, 97107 Uxbridge Road, Ealing, W5. Tel: 01-579 9251. Depots at Birmingham, Birmingham West, Bristol, Burnley, Cardiff, Croydon, Enfield, Glasgow, Greenwich, Guildford, Heathrow, Manchester, Newcastle, Park Royal, Sheffield, Swindon. Additional hire points at Bedminster, Bury St Edmunds, Camberley, Farnborough, Guildford, Hemel Hempstead, Keynsham, Leeds, Newport, Nuneaton, Oxford, Paisley, Poole, Redditch, Sheerwater, Slough, Southampton, Stoke-on-Trent, Teeside and Trowbridge.
From one ton payload vans to 38tonnes gcw tractive units, with a mix of boxes, dropsides, curta insiders and refrigerated vehicles. There are some sleepers in the fleet, which is a mixture of Fords, Bedfords, Seddon Atkinsons, Volvos, Mercedes and, at the lighter end, Volkswagen.
Salford Van Hire, Sherbourne Street, Manchester Tel: 061 833 0771. Additional location at Leeds.
A variety of light vans and heavier open trucks; 2, 4 and 10-ton payload refrigerated vehicles; 32-ton-gcw tractive units. Many of the vehicles in the fleet have tail lifts.
Smith Self Drive, Nursery Street, Sheffield. Additional depots at Rotherham, Doncaster, Leeds and Whitehaven.
A large fleet of vehicles, from light vans to 32-ton tractive units and trailers. The fleet consists of Volvos, DAFs, Fiats, and at the lighter end, Fords.
Smithfield Garage, Digbeth, Birmingham B5 6DX. Tel: 021 6437341.
Car-oriented rental company, although there are some VW Transporters in its fleet.
Sutton and Son Truck Rental, Pipe Lane, Kingsland Grange, Woolston, Warrington, Cheshire. Tel: 0925 824714. Depots also at St Helens, Preston, Manchester and Birmingham.
Anything from two-ton-gvw Marc 207s to 38-tonne gcw units, with the fleet including dropsides and box vans with tail lifts. There is a mix of Mercedes, Volvos and Bedfords. Many of the vehicles are fitted with radios.
Swan National, James House, 55 Welford Road, Leicester. Branches at Barking, Croydon, Finch ley, Wandsworth, Wembley, Kensington, Birmingham, Cardiff, Coventry, Fareham, Kingswinford, Leeds, Leicester, Liverpool, Luton, Mlanchester, Newcastle-Upon-Tyne, Reading, Salisbury, Southampton, Stoke-on-Trent, Dundee, Edinburgh, Glasgow and Hamilton.
Ford Escort vans, Ford Transits (or similar), Ford Transit Lutons, and Ford Transit dropsides. (Minibuses also available.)
Swift Autos, 386 Paisley Road, Glasgow G5 8RA. Tel: 041 429 4949. Additional depots at Paisley and Bel 'shill. Non-hgv fleet including vehicles with 8cwt, 18cwt and 35cwt payloads. Light tippers available. Leyland/Ford fleet.
Temeside Vehicle Rental, Ludford Bridge, Ludlow, Shropshire SY8 1PE. Tel: 0584 3521. Branches at Wolverhampton (Midland regional office), Handsworth, Worcester, Bristol (south west regional office), Gloucester, Shrewsbury and Hereford.
Wide range of vehicles including 6-10cwt payload vans (Escort, Cheyenne, Astravan, Marian, Fiesta); 1822cwt Sherpas, Transits or Bedford CF's (petrol or diesel); 25cwt pickups (Ford P100 or Mazda pick-up), 31-35cwt panel vans (Renault Master T350 LWB, Mercedes 3075, Volkswagen LT 31/35); 35cwt Lutons (Bedford CF petrol or diesel versions, Ford Transit); and 35cwt payload dropsides and tippers (Transit, Bedford CF, Mercedes 3070).
Hgv in the Temeside fleet include 7.5-tonne-gvw boxvans (Bedford TK or TL, Ford Cargo or D Series most with tail lifts); 16.26-tonne boxes and dropsides (Bedford TM, Mercedes 1617, DAFs 2100); 24.39 tonne dropsides (Bedford TM 2600); 32.5-40-tonne tractive units (OAF 2800, Volvo F10, Mercedes 1628/32, Bedford TM V8). Trailer hire, leasing and contract hire also available, in addition to car hire.
Temeside has just completed a £500,000 investment programme in new vehicles. Its current vehicle fleet is now more than 500 and is expanding. Temeside claims to be the fourth largest truck rental company in the country.
The company operates a 24-hour breakdown service and also has radios fitted in most of its vehicles. 3D Trucks Sales Leasing and Rental, 31 West Street, Glasgow. Tel: 041 4292601.
Escort vans through to 32-ton tractive units, with a variety of dropsides, boxvans and demountables in the fleet (Ford, Dodge, Mercedes, Leyland.) Transfieet Services, Free Press House, 35-39 Castle Street, High Wycombe, Bucks HP13 6ST. Tel: High Wycombe 448885/6. also at Birmingham, Bristol, Croydon, Glasgow, Leeds, London, Manchester and Nottingham.
A wide range of vehicles from 35cwt payload vans through to boxes, flats, curtainsiders, fridges and maximum capacity tractive
units. Immediate availability from z national rental fleet of hundreds 01 trucks.
Transfleet Services specialises in commercial vehicle management and is an associate company of Lombard North Central and Lox Service. Tunnel Truck Sales, Purfleet Ltd, 690 London Road, West Thurrock, Essex. Tel: Purfleet 3344.
32-ton tractive units Hinos and DAFs.
U Drive Rental, 59 Masons Hill, Bromley, Kent. Tel: 01-464 0618. Also at Aldershot, Bromley, Canterbury, Cheam, Croydon central, Croydon south, Dartford, Eitham, Farnborough, Farnham, Folkestone, Guildford, Kingswood, Mottingham, Orpington, Ramsgate, Rochester, Sevenoaks, Sittingbourne and Woking.
Non-hgv from 9cwt payload vans up to 3-4-ton boxvans with or without tail lifts. (Ford, Toyota, Datsun, Mazda, Volkswagen fleet.) VVillhire, Commercial Centre, Anson Road, Airport Estate, Norwich, Norfolk. Tel: 0603416411.
The company has 13 rental depots. The fleet is of Escort vans through to maximum weight tractive units. There is a mix of flats, dropsides, boxes and tippers. The company also operates a sizeable refrigerated fleet incorporating 7.5 and 16-ton-gvw rigid freezer vehicles and 12-metre TIR refrigerated trailers. Willhire also has a large general trailer fleet. There is also a 24hour breakdown service.
Wincanton Vehicle Rentals, Transport Avenue, Brentford. Tel: 01-847 1741. Also at Dagenham, Exeter, Southampton, Darlaston (Birmingham), Derby, Dewsbury, and Manchester. Ring head office for details of these, the other 24 (soon to be 27) branches.
A very wide range of vehicles indeed, any one of which can be rented for any period from a day to a year. There are box vehicles, dropsides, and Lutons from 3.5 tons gvw to 16 tons gvw; curtainsiders (13-16 tons gvw); refrigerated units (3.5-16 tons gvw); tractive units, to 38 tons gvw (with or without sleeper cabs, and Petroleum regulated).
D. H. Yates and Sons (Transport), 31A Tonbridge Road, Maidstone, Kent. A variety of vehicles ranging from 5cwt payload Ford Fiesta vans up to 32-ton-gcw artics. Flats, dropsides, boxvans and curtainsiders are included in the fleet. (Trailer rental also available.)
Tags
Locations
:
York
,
Folkestone
,
Canterbury
,
London El
,
Worksop
,
Walsall
,
Middlesboroug Newport
,
Coventry
,
Burnley
,
Teeside
,
Wetherby
,
Leicester
,
Brighton
,
Wilmslow
,
Derby
,
Bradford
,
Wolverhampton
,
Sevenoaks
,
Bristol
,
Sunderland
,
Middlesbrough
,
Gloucester
,
Plymouth
,
Oxford
,
Hereford
,
Manchester
,
Exeter
,
Trowbridge
,
Doncaster
,
Swindon
,
Portsmouth
,
Cleveland
,
Sheerwater
,
Stoke-on-Trent
,
Reading
,
Guildford
,
Nottingham
,
Wellington
,
Shrewsbury
,
Woking
,
Redditch
,
Arlington
,
Enfield
,
Newcastle
,
Whitehaven
,
Sittingbourne
,
Dundee
,
Poole
,
Heathrow
,
Aberdeen
,
Dublin
,
Rochester
,
Dewsbury
,
Worcester
,
St Helens
,
Slough
,
Preston
,
Ramsgate
,
Southampton
,
Leeds
,
Sheffield
,
Weymouth
,
Birmingham
,
Halifax
,
Liverpool
,
Woolston
,
Orpington
,
Newport
,
Mottingham
,
Hamilton
,
Croydon
,
Belfast
,
Roade
,
Romford
,
Cambridge
,
Cardiff
,
Glasgow City
,
Norwich
,
Cowdenbeath
,
Strensham
,
Glasgow
,
Salisbury
,
London
,
Oldbury
,
Kingswood
,
Gorseinon
,
Carlisle
,
Edinburgh