Specialized Vehicles that Stretch
1st January 1954
Page 45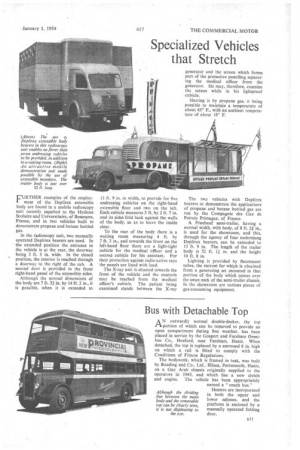 Page 45, 1st January 1954 —
Specialized Vehicles that Stretch
Close
FURTHER examples of the employment of the Deplirex extensible body are found in a mobile radioscopy unit recently supplied to the Hydiene Scolaire and Universitaire, of Besancon, France, and in two vehicles built to demonstrate propane and butane bottled gas.
In the radioscopy unit, two manually operated Deplirex bearers are used. In the extended position the entrance to the vehicle is at the rear, the doorway being 3 ft. 3 in. wide. In the closed position, the interior is reached through a doorway to the right of the cab. A second door is provided in the front right-hand panel of the extensible sides.
Although the normal dimensions of the body are 7 ft. 3/ in. by 14 ft. 2 in., it is possible, when it is extended to
13 ft. 9 in. in width, to provide for five undressing cubicles on the right-hand extensible' floor and two on the left. Each cubicle measures 3 ft. by 2 ft. 7 in. and its sides fold back against the walls of the body, so as to leave the inside dear..
To the rear of the body there is a waiting room measuring 4 ft. by 7 ft. 3 in., and towards the front on the left-hand floor there are a light-tight cubicle for the medical officer and a second cubicle for his assistant. For their protection against radio-active rays • the panels are lined with lead.
The X-ray unit is situated towards the front of the vehicle and the controls may be reached from the medical officer's cubicle. The patient being examined stands between the X-ray generator and the screen which forms part of the protective panelling separating the medical officer from • the generator. He may, therefore, examine the screen while in his lightproof cubicle.
Heating is by propane gas, it being possible to maintain a temperature of about 6Y F., with an ambient temperature of about 18° F.
The two vehicles with Deplirex bearers to demonstrate the applications of propane and butane bottled gas are run by the Compagnie des Gas de Petrole Primagaz, of France.
A Fruehauf semi-trailer, having a normal width, with body, of 8 ft. 2/ in., is used for the showroom, and this, through the agency of four underslung Deplirex bearers, can be extended to 15 ft. 9 in. The length of the trailer body is 32 ft. l in. and the height 10 ft. 8 in.
Lighting is provided by fluorescent tubes, the current for which is obtained from a generating set mounted in that portion of the body which comes over the swan neck of the semi-trailer chassis. In the showroom are various pieces of gas-consuming equipment.