1 5m. Tons of Oil Carried 1 30m. Miles a Year
1st January 1954
Page 42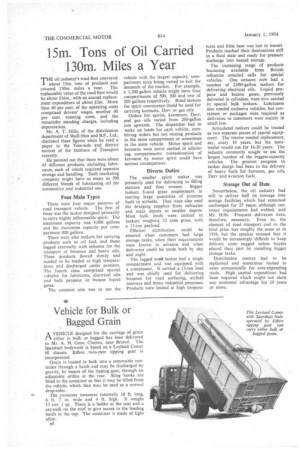 Page 42, 1st January 1954 —
1 5m. Tons of Oil Carried 1 30m. Miles a Year
Close
THE oil industry's road fleet conveyed about 15m. tons of products and covered 130m. miles a year. The replaceable value of the road fleet would be about i16m., with an annual replacement expenditure of about £2m. More than 40 per cent. of the operating costs comprised drivers' wages, another 40 per cent, running costs, and the remainder standing charges, including depreciation.
Mr. A. T. Hills, of the distribution department of Shell-Mex and B.P., Ltd., disclosed these figures when he read a paper to the Tees-side and district section of the Institute of Transport recently.
He pointed out that there were about 45 different products, excluding lubricants, each of which required separate storage and handling. Each marketing company might have as many as 500 different blends of lubricating oil for automotive and industrial use.
Four Main Types
There were four major patterns of road transport vehicle. The first of these was the tanker designed primarily to carry highly inflammable spirit. The maximum capacity was 4,000 gallons and the maximum capacity per compartment 800 gallons.
There were also tankers for carrying products such as oil fuel, and those lagged externally with asbestos for the transport of bitumen and heavy oils. These products flowed slowly and needed to be loaded at high temperatures and discharged under pressure. The fourth class comprised special vehicles for lubricants, electrical oils and bulk propane or butane liquid gases.
The constant aim was to use the vehicle with the largest capacity, compartment sizes being varied to suit the , demands of the market. For example, a 1,200-gallon vehicle might have four compartments of 500, 300 and two of 200 gallons respectively. Road tankers for spirit conveyance &ould be used for carrying kerosene, Dery or gas oils.
Orders for spirits, kerosenes, Derv, and gas oils varied from 200-gallon lots upwards. The dispatcher had to make up loads for each vehicle, combining orders but not mixing products in the same compartment or sometimes in the same vehicle. Motor spirit and kerosene were never carried in adjoin% ing compartments: contamination of kerosene by motor spirit could have serious consequences.
Diverse Duties
The smaller spirit tanker was primarily used for delivering to filling stations and fleet owners. Bigger tankers found great employment in moving large quantities of aviation fuels to airfields. They were also used for bridging supplies from refineries and main depots to smaller depots. Most bulk loads were carried in tankers weighing 22 tons gross, with a 13-ton payload.
Efficient distribution could be ensured when customers had large storage tanks, when their requirements were known in advance and when deliveries could be made both by day and night.
The lagged road tanker had a single compartment, and was equipped With a compressor. It carried a 13-ton load and was chiefly used for delivering bitumen for road surfacing, airfield runways and many industrial processes. Products were loaded at high tempera
tures and little heat was lost in transit Products reached their destinations still in a fluid state and ready for pressure discharge into heated storage.
The increasing range of products becoming available from British refineries entailed calls for special vehicles. One concern now had a number of 2;000-gallon tankers for delivering electrical oils. Liquid propane and butane gases, previously delivered in cylinders, were now carried in special bulk tankers. Lubricants also needed exclusive vehicles, but containers or packages were required as deliveries to customers were mainly in small lots.
Articulated tankers could be treated as two separate pieces of capital equipment, The tractor needed replacement, say, every 10 years, but the semitrailer would run for 16-20 years. The industry constantly sought to use the largest number of the biggest-capacity vehicles. The greatest progress in tanker design had been in the delivery of heavy fuels for furnaces, gas oils, Dery and aviation fuels.
Storage Out of Date Nevertheless, the oil industry had still to deliver half its tonnage into storage facilities which had remained unchanged for 25 Years, although customer requirements had trebled, said Mr. Hills. Frequent deliveries were, therefore, necessary. Even so, the element of road transport cost in the total price was roughly the same as in 1938, but the speaker stressed that it would be increasingly difficult to keep delivery costs pegged unless buyers played their part by installing bigger storage tanks.
Distribution centres had to be replanned and sometimes resited to cater economically for ever-expanding trade. High capital expenditure had been required which might not show any economic advantage for 10 years Or more.