New Engine-cle aning Detergent
1st January 1954
Page 40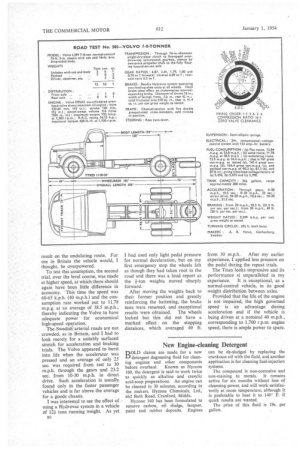 Page 40, 1st January 1954 —
New Engine-cle aning Detergent
Close
BOLD claims are made for a new detergent degreasing fluid for cleaning engines and other components before overhaul. Known as Hyzone 160, the detergent is said to work twice as quickly as alkaline and cresylic acid-soap preparations. An engine can be cleaned in 30 minutes, according to the makers, Hyzone Chemicals, Ltd., 662 Bath Road, Cranford, Middx.
Hyzone 160 has been formulated to remove carbon, oil sludge, lacquer, paint and rubber deposits. Engines
can be de-sludged by replacing the crankcase oil with the fluid, and another application is for cleaning fuel-injection systems.
The compound is non-corrosive and non-staining to metals. It remains active for six months 'without loss of cleansing power, and will work satisfactorily at room temperature, although it is preferable to heat it to 140° F. if quick results are wanted.
The price of this fluid is 19s. per gallon.