Blackpool-Jersey Coach-Air Service
1st January 1954
Page 37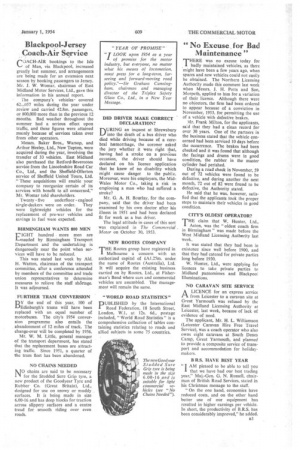 Page 37, 1st January 1954 —
Blackpool-Jersey Coach-Air Service
Close
COACH-Aill bookings to the Isle of Man, via Blackpool, increased greatly last summer, and arrangements are being made for an extension next season by booking passengers to Jersey. Mr. J. W. Womar, chairman of East Midland Motor Services, Ltd., gave this information in his annual report.
The company's vehicles. covered 62.,057 miles during the year under review and carried 42.8m. passengers, or 800,000 more than in the previous 12 months. Bad weather throughout the summer had a serious effect upon traffic, and these figures were attained mainly because of services taken over from other operators.
Messrs. Baker Bros., Warsop, and Arthur Heeley, Ltd., New Tupton, were acquired during the year, involving the transfer of 33 vehicles. East Midland also purchased the Retford-Bevercotes service from the Lincolnshire Road Car Co., Ltd., and the Sheffield-011erton service of Sheffield United Tours, Ltd. " These acquisitions will enable your company to reorganize certain of its services with benefit to all concerned," Mr. Womar told shareholders.
Twenty five underfloor engined single-deckers were on order. They were lightweight vehicles for the replacement of pre-war vehicles and savings in fuel were expected.
BIRMINGHAM WANTS 800 MEN
EIGHT hundred more men are J—Ineeded by Birmingham Transport Department and the undertaking is dangerously near the point when services will have to be reduced.
This was stated last week by Aid. H. Watton, chairman of the transport committee, after a conference attended by members of the committee and trade union representatives to determine measures to relieve the staff shartage. It was adjourned.
FURTHER TRAM CONVERSION
BY the end of this year, 100 of Edinburgh's trams will have been replaced with an equal number of motorbuses. The city's 1954 conversion programme also entails the abandonment of 12 miles of track. The change-over will be completed by 1956.
Mr. W. M. Little, general manager of the transport department, has stated that the replacement buses are attracting traffic. Since 1951, a quarter of the tram fleet has been abandoned.
NO CHAINS NEEDED MO chains are said to be necessary for the Studded Sure Grip tyre, a new product of the Goodyear Tyre and Rubber Co. (Great Britain), Ltd., designed for use on snowy or muddy surfaces. It is being made in size 6.00-16 and has deep blocks for traction across slippery surfaces and a centre tread for smooth riding over even roads. DID DRIVER MAKE CORRECT DECLARATION?
DURING an inquest at Shrewsbury into the death of a bus driver who died while driving because of a cerebral hremorrhage, the coroner asked the jury whether it were right that, having had a stroke on a previous occasion, the driver should have declared on his licence application that he knew of no disability which might cause danger to the public. Moreover, were his employers, the MidWales Motor Co., taking a risk in employing a man who had suffered a stroke?
Mr. G. A. H. Bourlay, for the company, said that the driver had been examined by his own doctor after his illness in 1951 and had been declared fit for work as a bus driver.
The legal attitude in cases of this sort was explained in The Commercial Motor on October 30, 1953.
NEW ROOTES COMPANY
THE Rootes group have registered in Melbourne a concern with an authorized capital of £A1.25m. under the name of Rootes (Australia), Ltd. It will acquire the existing business carried on by Rootes, Ltd., at Fisherman's Bend where cars and commercial vehicles are assembled. The management will remain the same.
"WORLD ROAD STATISTICS"
PUBLISHED by the International Road Federation, 18 South Street, London, W.1, at 12s. 6d., postage included, "World Road Statistics" is a comprehensive collection of tables containing statistics relating to roads and allied subjects in some 75 countries.