New Ring's - Cross Station Approved
1st January 1954
Page 36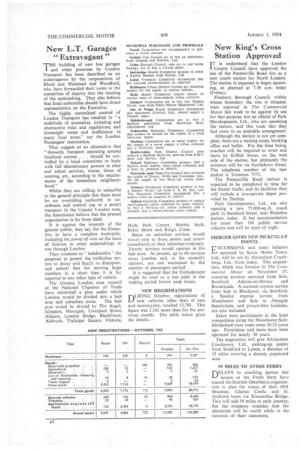 Page 36, 1st January 1954 —
New Ring's - Cross Station Approved
Close
I T is understood that the London County Council have approved the use of the Pentonville Road site as a new coach station for North London. The station is expected to begin operating, as planned at 7.30 a.m. today (Friday).
Finsbury Borough Council, within whose boundary the site is situated, were reported in The Commercial Motor last week to be against its use for that purpose, but an official of Park 'Developments, Ltd., who are operating the station, said this week that they had come to an amicable arrangement.
Although the station is not yet complete, there are a waiting room, booking office and buffet. For the time being, coaches will be requiredto enter and leave by Killick Street, on the west side of the station, but ultimately the entrance will be via Northdown Street. The telephone number of the hew station is Terminus 7373.
.The Pentonville Road station is expected to be completed in time for the Easter traffic, and its facilities then will include a tyre-service depot provided by Dunlop.
Park Developments. Ltd., are also opening a new 75,000-sq.-ft. coach park in Stamford Street, near Waterloo station, today. It has accommodation for more than 100 public service vehicles and will be open all night.
MERGER GIVES NEW PICKING-UP POINTS XCURSIONS and tours hitherto
operated by Sykes Motor Tours, Ltd., will be run by Altrincham Coachways, Ltd., from today. This acquisition, which was forecast in The Commercial Motor on November 27, concerns services operated from Sale, Stretford, Ashton-on-Mersey and Brooklands. A seasonal express service from Sale to Blackpool, via Stretford, a Sunday express service from Manchester and Sale to Abergele Sanatorium, and private-hire facilities, are also included.
Sykes were participants in the keen competition along the Manchester-SaleAltrinchant tram route some 20-25 years ago. Excursions and tours have been operated for nearly 30 years.
The acquisition will give Altrincham Coachways, Ltd., picking-up points from Stretford to Lymm, a distance of 15 miles covering a densely populated area.
59 MILES TO AVOID FERRY
nELAYS to coaching parties last
season at the Forth ferry have caused the Scottish Omnibuses organization to plan the routes of their 1954 13raemar, Glamis Castle and St. Andrews tours via Kincardine Bridge. This will add 59 miles to each journey, but the company consider that the alteration will be worth while in the interests of their customers.