New L.T. Garages "Extravagant"
1st January 1954
Page 36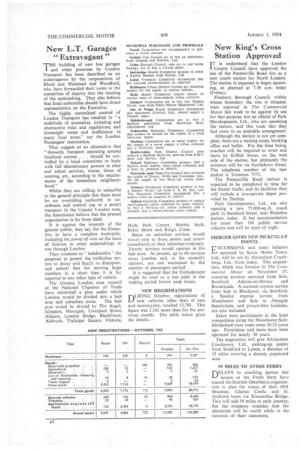 Page 36, 1st January 1954 —
New L.T. Garages "Extravagant"
Close
THE building of new bus garages and other premises by London Transport has been described as an extravagance by the corporations of Ilford and Wanstead and Woodford, who have forwarded their views to the committee of inquiry into the running of the undertaking. They also believe that local authorities should have direct representation on the Executive.
The highly centralized control of London Transport has resulted in "a multitude of anomalies, irritating and obstructive rules and regulations, and downright waste and inefficiency in many local areas," say the London Passengers' Association.
They suggest as an alternative that "domestic transport operating around localized centres . . should be controlled by a local coininittee or body with full discretionary powers to alter and adjust services, routes, times of . running, etc., according to the requirements of the immediate neighbourhood."
Whilst they are willing to subscribe to the general principle that there must be an overriding authority to coordinate and control (up to a point) transport in the Greater London area, the Association believe that the present organization is far from ideal.
It is against the interests of the general public, they say, for the Executive to have a complete monopoly. including the power of veto on the issue of licences to other undertakings to run through London.
They condemn as " indefensible " the proposal to permit the trolleybus system to decay and finally to disappear, and submit that for moving large numbers in a short time it is far superior' to any other type of vehicle.
The Greate; London area council of the National Chamber of Trade have submitted a plan under which London would be divided into a hub area and suburban areas. The hub area would be skirted by The Angel, Islington, Moorgate, Liverpool Street, Aldgate, London Bridge, Blackfriars, Aldwych, Trafalgar Square, Victoria, Hyde Park Corner, Marble Arch, Baker Street and King's Cross.
Buses on suburban services would travel only to those points and return immediately to their suburban terminals. Twenty services would operate in the hub area. At present, up to 60 services cross London and, in the council's opinion, are not warranted by the number of passengers carried.
It is suggested that the Embankment might be used as a bus park in the waiting period before peak hours.
NEW REGISTRATIONS
DURING October, registrations of new vehicles, other than of cars and motorcycles, reached 13,781. This figure was 1,542 more than for the previous month. The table below gives the details:—