Rickards DireCtor Started Own Business : Wins Appeal
1st January 1954
Page 35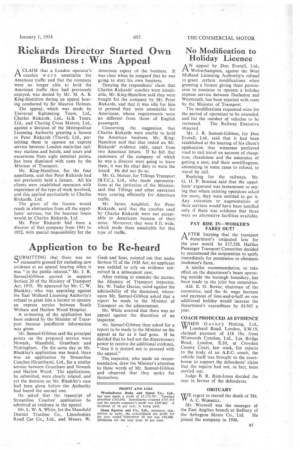 Page 35, 1st January 1954 —
Rickards DireCtor Started Own Business : Wins Appeal
Close
ACLAIM that a London operator's coaches w ere unsuitable for American traffic and that the company were no longer able to hold the American traffic they had previously enjoyed, was denied by Mr. M. A. B. King-Hamilton during an appeal hearing conducted by Sir Maurice Holmes.
The appeal, which was made by Universal Sightseeing Tours, Ltd., Charles Rickards, Ltd., G.B. Tours, Ltd., and Charing Cross Motors, Ltd., against a decision of the Metropolitan Licensing Authority granting a licence to Peter Rickards (Travel), Ltd., permitting them to operate an express service between London main-fine railway stations and hotels, and tours and excursions from eight terminal points, has been dismissed with costs by the Minister of Transport.
Mr. King-Hamilton, for the four appellants, said that Peter Rickards had not previously held a licence. All his clients were established operators with experience of the type of work involved, and this applied particularly to Charles Rickards, Ltd.
The grant of the licence would result in abstraction from all the appellants' services, but the heaviest losers would, be Charles Rickards, Ltd.
Mr. Peter Rickards had been a director of that company from 1941 to 1952, with special responsibility for the American aspect of the business. It was clear when he resigned that he was going to start his own business.
Denying the respondents' claim that Charles Rickards' coaches were unsuitable, Mr. King-Hamilton said they were bought for the company by Mr. Peter Rickards, and that it was idle for him to pretend they were unsuitable for Americans, whose requirements were no different from those of English passengers.
Concerning the suggestion that Charles Rickards were unable to hold the American business, Mr. KingHamilton said that that rested on Mr. Rickards' evidence only, apart from two American letters. If he felt that customers of the company of which he was a director were going to leave them, it was his clear duty to warn the board. He did not do so.
Mr. G. Mercer, for Tillings Transport (B.T.C.), Ltd., who made representations at the invitation of the Minister, said that Tillings and other operators were catering efficiently for American traffic.
Mr. James Amphlett, for Peter Rickards, said that the coaches used by Charles Rickards were not acceptable to Americans because of their noise. Moreover, they were 8 ft. wide, which made them unsuitable for this type of traffic.