Application to be Re-heard
1st January 1954
Page 35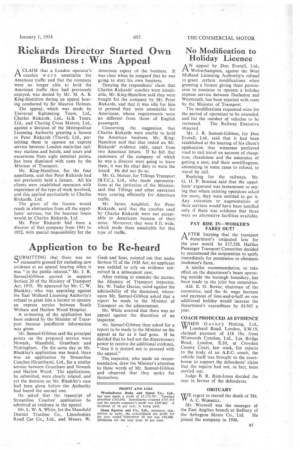 Page 35, 1st January 1954 —
Application to be Re-heard
Close
SUBMITTING that there was no reasonable ground for excluding new evidence at an appeal hearing when it
was " in the public interest," Mr. R. Samuel-Gibbon quoted in support Section 20 of the Ministry of. Transport Act, 1919. He appeared for Mr. C. W. Blankley,• who was appealing against the East Midland Licensing Authority's refusal to grant him a licence to operate an express service between South Witham and Harlow Wood Hospital.
A re-hearing of the application has been ordered by the Minister of Transport because insufficient information was given.
Mr. Samuel-Gibbon said the principal points on the proposed service were Newark, Mansfield, Grantham and Nottingham. On the same day as Mr. Blank ley's application was heard, there was an application by Streamline Coaches (Grantham), Ltd., for a similar service between Grantham and Newark and Harlow Wood. The applications, he submitted, were clearly related, and yet the decision on Mr. Blankley's case had been given before the Authority had heard the second one.
He asked that the transcript of Streamline Coaches' application be admitted as evidence in the appeal.
Mr. L, W. A. White, for the Mansfield District Traction Co., Lincolnshire Road Car Co., Ltd., and Messrs. W. Gash and Sons, pointed out that under Section 72 of the 1930 Act, no applicant was entitled to rely on evidence submitted in a subsequent case.
After retiring to consider the mattes, the Ministry of Transport inspector, Mr. W. Tudor Davies, ruled against the admissibility of the document, whereupon Mr. Samuel-Gibbon asked that a report be made to the Minister of Transport on the adjournment.
Mr. White averred that there was no appeal against the discretion of an inspector.
Mr. Samuel-Gibbon then asked for a report to be made to the Minister on the appeal as far as it had gone. If he decided that he had not the discretionary power to receive the additional evidence, "then it is desired not to proceed with the appeal."
The, inspector, who made no recommendation, drew the Minister's attention to those words of Mr. Samuel-Gibbon and observed that they spoke for themselves.