Winking Lights Legal: T-Plates to Go: No Off-side Parking
1st January 1954
Page 33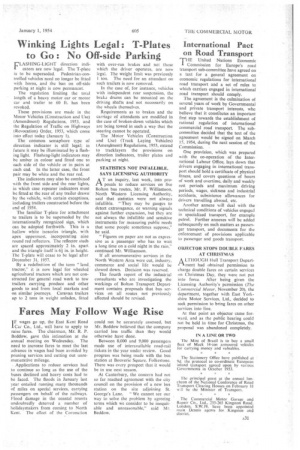 Page 33, 1st January 1954 —
Winking Lights Legal: T-Plates to Go: No Off-side Parking
Close
FLASHING-LIGHT direction indicators are now legal. The T-plate
is to be superseded. Pedestrian-con trolled vehicles need no longer be fitted with horns, and the ban on off-side parking at night is now permanent.
The regulation limiting the total Length of a heavy motor car or motor car and trailer to 60 ft. has been i.evoked.
These provisions are made in the Motor Vehicles (Construction and Use (Amendment) Regulations, 1953, and the Regulation of Traffic on Highways (Revocation) Order, 1953, which come into effect today (January I).
The common semaphore type of direction indicator is still legal; in future it may be illuminated by a flash ing light. Flashing-light indicators may be amber in colour and fitted one to each side of the vehicle or in pairs at each end. In the latter case, the front pair may be white and the rear red.
The indicators may also be combined with the front side and the rear lights, in which case repeater indicators must be fitted at the rear of any trailer drawn' by the vehicle, with certain exceptions, including trailers constructed before the end of 1954.
The familiar T-plate for attachment to trailers is to be superseded by the internationally recognized sign, which can be adopted forthwith. This is a hollow white isosceles triangle, with apex uppermost, incorporating nine round red reflectors. The reflector studs are spaced approximately 2 in. apart and the triangle itself is 6i in. in height. The T-plate will cease to be legal after December 31, 1957.
By a redefinition of the term "land. tractor," it is now legal for wheeled agricultural tractors which are not con structed for general road work to tow trailers carrying produce and other goods to and from local markets and on similar journeys. Caravan trailers up to 2 tons in weight unladen, fitted with over-run brakes and not those which the driver operates, are now legal. The weight limit was previously 1 ton. The need for an attendant on such trailers is now removed.
In the case of, for instance, vehicles with independent rear suspension, the brake drums can be mounted on the driving shafts and not necessarily on the wheels themselves.
Requirements as to brakes and the carriage of attendants are modified in the case of broken-down vehicles which are being towed in such a way that the steering cannot be operated.
The Motor Vehicles (Construction and Use) (Track Laying Vehicles) (Arneadment) Regulations, 1953, extend to tracklayers the provisions on direction indicators, trailer plates and parking at night.
STATISTICS NOT INFALLIBLE,
SAYS LICENSING AUTHORITY A T an inquiry, last week, into pro
posals to reduce services on five Bolton bus routes, Mr. F. Williamson, North Western Licensing Authority, said that statistics were not always infallible. "They may he gauges to detect extravagance, or warning signals against further expansion, but they are not always the infallible and sensitive instruments for measuring public needs that some people sometimes suppose," he said.
"Figures on paper are not as expressive as a passenger who has to wait a long time on a cold night in the rain," continued Mr. Williamson.
If all unremunerative services in the North Western Area were cut, industry, commerce and social life would be slowed down. Decision was reserved.
The fourth report of the industrial consultants who are investigating the workings of Bolton Transport Department contains proposals that bus services on all routes not previously affected should be revised.