International Pact on Road Transport
1st January 1954
Page 33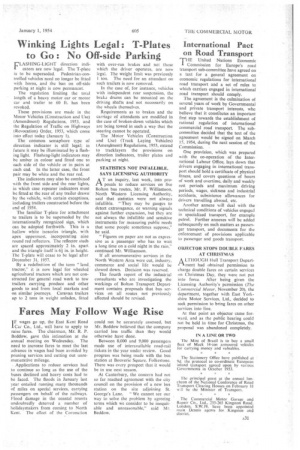 Page 33, 1st January 1954 —
International Pact on Road Transport
Close
THE United Nations Economic I Commission for Europe's road transport sub-committee have agreed on a text for a general agreement on economic regulations for international road transport and a set of rules to which carriers engaged in international road transport should comply.
The agreement is the culmination of several years of work by Governmental and private transport interests, who believe that it constitutes an important first step towards the establishment of rational regulation of international commercial road transport. The subcommittee decided that the text of the agreement would be signed on March 15. 1954, during the next session of the Commission.
One provision, which was prepared with the co-operation of the International Labour Office, lays down that drivers engaging in international transport should hold a certificate of physical fitness, and covers questions of hours of work and overtime, daily and weekly rest periods and maximum' driving periods, wages, sickness and industrial accidents, subsistence allowances for drivers travelling abroad, etc.
Another annexe will deal with the technical conditions of vehicles engaged in specialized transport, for example petrol. Further annexes will be added subsequently on such matters as passenger transport, and documents for the enforcement of provisions applicable to passenger and goods transport OBJECTOR STOPS DOUBLE FARES AT CHRISTMAS A LTHOUGH Hull Transport DepartrAment had obtained Permission to charge double fares on certain services on Christmas Day, they were not put into force. After being given the Licensing Authority's permission (The Commercial Motor, November 20), the department, together with East Yorkshire Motor Services, Ltd., decided to seek permission to bring fares on other services into line.
At that point an objector came forward, and as the public hearing could not be held in time for Christmas, the proposal was abandoned completely.