Fares May Follow Wage Rise
1st January 1954
Page 33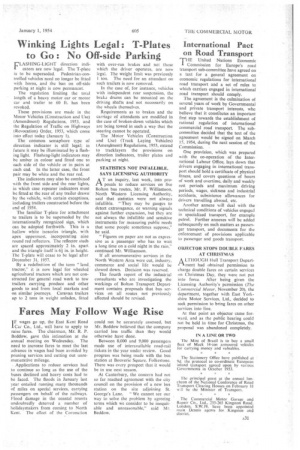 Page 33, 1st January 1954 —
Fares May Follow Wage Rise
Close
IF wages go up, the East Kent Road 'Car Co., Ltd., will have to apply to raise fares. The chairman, Mr. R. P. Beddow, gave this intimation at the annual meeting on Wednesday. The need to increase fares to meet the last advance in wages had been avoided by pruning services and cutting out unremunerative mileage.
•Applications to reduce services had to continue so long as the use of the buses declined and heavy costs had to be faced. The floods in January last year entailed running many thousands of miles on special services, carrying passengers on behalf of the railways. Flood damage in the coastal resorts undoubtedly deterred a number of holidaymakers from coming to North Kent The effect of the Coronation
could not be accurately assessed, but Mr. Beddow believed that the company carried less traffic than they would otherwise have done.
Between 8,000 and 9,000 passengers made use of interavailable road-rail tickets in the year under review. Good progress was being made with the bus station at Bouverie.Square, Folkestone. There was every prospect that it would be in use next season.
At Canterbury, the concern had not so far reached agreement with the city council on the provision of a new bus station on the site adjoining St. George's Lane. "We cannot see our way to solve the problem by agreeing terms which we consider to be inequitable and unreasonable," said Mr. Beddow.