EUSTON STATION BEING PREPARED WHILE the coach-station site at vY
1st January 1954
Page 32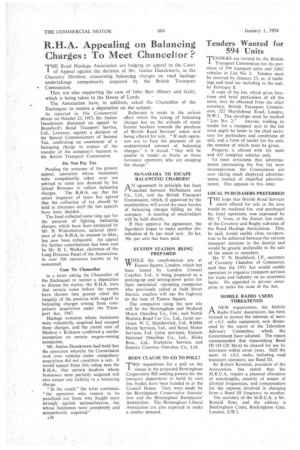 Page 32, 1st January 1954 —
EUSTON STATION BEING PREPARED WHILE the coach-station site at vY
Close
Euston Square, London, which has been leased by London Coastal Coaches, Ltd., is being prepared as a picking-up and setting-down point for their associated operating companies Who previously called at Judd Street Station, coaches will use the highway to the west, of Euston .Square.
The companies using the new site will be the Birmingham and Midland Motor Omnibus Co., Ltd., and North Western Road Car Co., Ltd., (joint services), W. C. Standerwick, Ltd., Ribble Motor Services, Ltd., and Scout Motor Services, Ltd. (joint services), Eastern National Omnibus Co., Ltd., Hicks Bros., Ltd., Yorkshire Services and Eastern Counties Omnibus Co., Ltd.
BODY CLAUSE TO GO TO POLL?
TW0 requisitions for a poll on the clause in the proposed Birmingham Corporation Bill seeking powers for the transport department to build its own bus bodies have been handed in at the Council House. They were made by the Birmingham Conservative Association and the Birmingham Ratepayers' AssOciation. The Birmingham Liberal Association are also expected to make a similar demand.