Improve Spare-part Service
1st January 1954
Page 30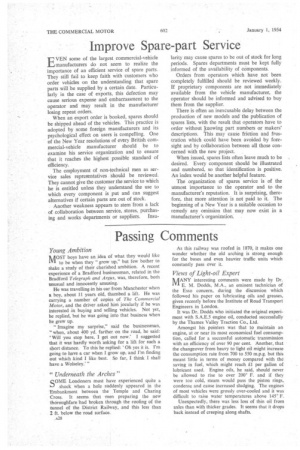 Page 30, 1st January 1954 —
Improve Spare-part Service
Close
EYEN some of the largest commercial-vehicle manufacturers do not seem to realize the importance of an efficient service of spare parts. They still fail to keep faith with -customers who order vehicles on the understanding that spare parts will be supplied by a certain date. Particularly in the case of exports, this defection may cause serious expense and embarrassment to the operator and may result in the manufacturer losing repeat orders. When an export order is booked, spares should be shipped ahead of the vehicles. This practice is adopted by some foreign manufacturers and its psychological effect on users is compelling. One of the New Year resolutions of every British commercial-vehicle manufacturer should be to examine his service organization and to ensure that it reaches the highest possible standard of efficiency.
The employment of non-technical men as service sales representatives should be reviewed. They cannot give the customer the service to which he is entitled unless they understand the use to which every component is put and can suggest alternatives if certain parts are out of stock.
Another weakness appears to stem from a lack of collaboration between service, stores, purchasing and works departments or suppliers. Insu larity may cause spares to be out of stock for long periods. Spares departments must be kept fully informed of the availability of components.
Orders from operators which have not been completely fulfilled should be reviewed weekly. If proprietary components are not immediately available from the vehicle manufacturer, the operator should be informed and advised to buy them from the supplier.
There is often an inexcusable delay between the production of new models and the publication of spares lists, with the result that operators have to order without lcuowing part numbers or makers' descriptions. This may cause friction and frustration which could have been avoided by foresight and by collaboration between all those concerned with the new project.
When issued, spares lists often leave much to be desired. Every component should be illustrated and numbered, so that identification is positive. An index would be another helpful feature.
The organization of spares service is of the utmost importance to the operator and to the manufacturer's reputation. It is surprising, therefore, that more attention is not paid to it. The beginning of a New Year is a suitable occasion to remedy any omission that may now exist in a manufacturer's organization.