Car drivers OK bigger lorries
1st February 1996
Page 9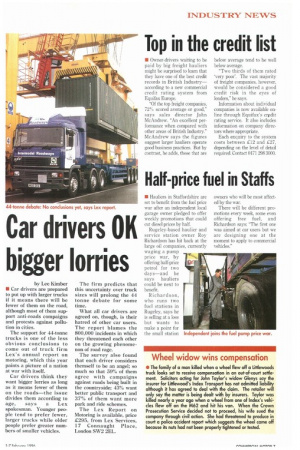 Page 9, 1st February 1996 —
Car drivers OK bigger lorries
Close
by Lee Kimber • Car drivers are prepared to put up with larger trucks if it means there will be fewer of them on the road, although most of them support anti-roads compaigns and protests against pollution in cities.
The support for 44-tonne trucks is one of the less obvious conclusions to come out of truck firm Lex's annual report on motoring, which this year paints a picture of a nation at war with itself.
Car drivers think they want bigger lorries as long as it means fewer of them on the roads—the issue divides them according to age, says a Lex spokesman. Younger people tend to prefer fewer, larger trucks while older people prefer greater numbers of smaller vehicles. The firm predicts that this uncertainty over truck sizes will prolong the 44 tonne debate for some time.
What all car drivers are agreed on, though, is their hatred of other car users. The report blames the 800,000 incidents in which they threatened each other on the growing phenomenon of road rage.
The survey also found that each driver considers themself to be an angel; so much so that 59% of them agree with campaigns against roads being built in the countryside; 43% want better public transport and 37% of them want more park and ride schemes.
The Lex Report on Motoring is available, price £295, from Lex Services, 17 Connaught Place, London SW2 2EL.