Police seek hauliers' help
1st February 1996
Page 8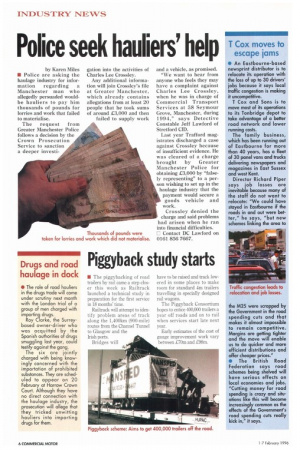 Page 8, 1st February 1996 —
Police seek hauliers' help
Close
by Karen Miles • Police are asking the haulage industry for information regarding a Manchester man who allegedly persuaded wouldbe hauliers to pay him thousands of pounds for lorries and work that failed to materialise.
The request from Greater Manchester Police follows a decision by the Crown Prosecution Service to sanction a deeper investi gation into the activities of Charles Lee Crossley.
Any additional information will join Crossley's file at Greater Manchester, which already contains allegations from at least 20 people that he took sums of around £3,000 and then failed to supply work and a vehicle, as promised.
"We want to hear from anyone who feels they may have a complaint against Charles Lee Crossley. when he was in charge of Commercial Transport Services at 58 Seymour Grove, Manchester, during 1994," says Detective Constable Jeff Lawford of Stretford CID.
Last year Trafford magistrates discharged a case against Crossley because of insufficient evidence. He was cleared of a charge brought by Greater Manchester Police for obtaining £3,000 by "falsely representing" to a person wishing to set up in the haulage industry that the payment would secure a goods vehicle and work.
Crossley denied the charge and said problems had arisen when he ran into financial difficulties. E Contact DC Lawford on 0161 856 7667.