'Let's hope the changes don't mean we mothball our inheritance'
1st February 1996
Page 42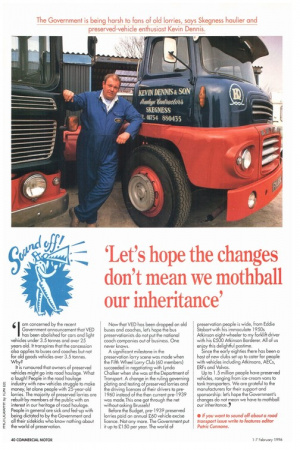 Page 42, 1st February 1996 —
'Let's hope the changes don't mean we mothball our inheritance'
Close
6 am concerned by the recent
I Government announcement that VED I Government announcement that VED has been abolished for cars and light vehicles under 3.5 tonnes and over 25 years old. It transpires that the concession also applies to buses and coaches but not for old goods vehicles over 3.5 tonnes. Why? It is rumoured that owners of preserved vehicles might go into road haulage. What a laugh! People in the road haulage industry with new vehicles struggle to make money, let alone people with 25-year-old lorries. The majority of preserved lorries are rebuilt by members of the public with an interest in our heritage of road haulage. People in general are sick and fed-up with being dictated to by the Government and all their sidekicks who know nothing about the world of preservation. Now that VED has been dropped on old buses and coaches, let's hope the bus preservationists do not put the national coach companies out of business. One never knows.
A significant milestone in the preservation lorry scene was made when the Fifth Wheel Lorry Club (60 members) succeeded in negotiating with Lynda Chalker when she was at the Department of Transport. A change in the ruling governing plating and testing of preserved lorries and the driving licences of their drivers to pre1960 instead of the then current pre-1939 was made.This one got through the net without asking Brussels! Before the Budget, pre-1939 preserved lorries paid an annual £60 vehicle excise licence, Not any more, The Government put it up to 2150 per year. The world of preservation people is wide, from Eddie %bort with his immaculate 1950s Atkinson eight-wheeler to my Forklift driver with his 2500 Atkinson Borderer. All of us enjoy this delightful pastime. Since the early eighties there has been a host of new clubs set up to cater for people with vehicles including Atkinsons, AECs, ERFs and Volvos.
Up to 1.5 million people have preserved vehicles, ranging from ice-cream vans to tank transporters. We are grateful to the manufacturers for their support and sponsorship: let's hope the Government's changes do not mean we have to mothball our inheritance.