Last appeal • Bristol-based Karen Wynne has lost her appeal
1st February 1996
Page 18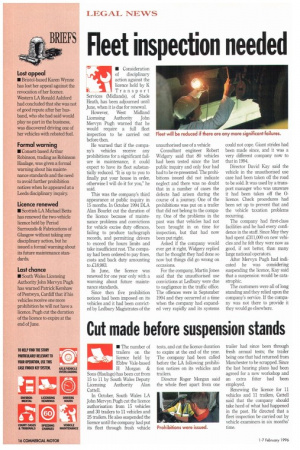 Page 18, 1st February 1996 —
Last appeal • Bristol-based Karen Wynne has lost her appeal
Close
against the revocation of her licence. Western LA Ronald Ashford had concluded that she was not of good repute after her husband, who she had said would play no part in the business, was discovered driving one of her vehicles with rebated fuel.
Formal warning • Consett-based Arthur Robinson, trading as Robinson Haulage, was given a formal warning about his maintenance standards and the need to avoid further prohibition notices when he appeared at a Leeds disciplinary inquiry Licence renewed • Scottish LA Michael Betts has renewed the two-vehicle licence held by Period Surrounds & Fabrications of Glasgow without taking any disciplinary action, but he issued a formal warning about its future maintenance standards.
Last chance • South Wales Licensing Authority John Mervyn Pugh has warned Patrick Kershaw of Pentwyn, Cardiff that if his vehicles receive one more prohibition he will not have a licence. Pugh cut the duration of the licence to expire at the end of June.