Whitson Turns to All metal Construction
1st February 1952
Page 43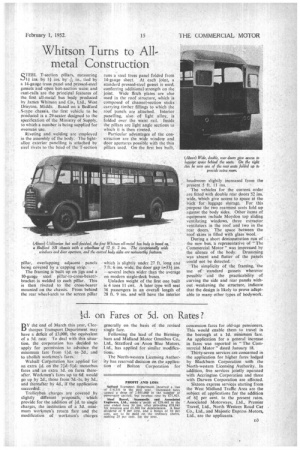 Page 43, 1st February 1952 —
Whitson Turns to All metal Construction
Close
STEEL T-section pillars, measuring
13 ins.• by 11 ins, by in., tied by a 14-gauge truss panel and pressed-steel gussets and open box-section waist and cant-rails are the principal features of the first all-metal bus body produced by James Whitson and Co., Ltd., West Drayton, Middx. Based on a Bedford -.S-type chassis, the first vehicle to. be prodoced is a 29-seater designed to the specification of the Ministry of Supply, to which a number is being supplied for overseas use.
Riveting and welding are employed in the assembly of the body. The lightalloy, exterior panelling is attacked by steel rivets to the head °ram T-section pillar, overlapping adjacent panels being covered by a capping strip.'
The framing is built up on jigs and a 10-gauge steel pi l la r-to-cross-beare rbracket is welded to each pillar. This is then riveted to the cross-bearer mounted on the chassis. From behind the rear wheel-arch to the screen pillar
runs a steel truss panel folded from 14-gauge sheet. ' At each joint, a standard pressed-steel gusset is used, conferring additional. strength on the joint. Wide flitch plates are also used in the. roof structure, which is composed of channel-section sticks carrying timber fillings to which the roof panels are attached. -Interior . panelling, also. of light alloy, is folded over the waist rail. Inside the pillars are light angle sections to which it is then riveted.
Particular advantages of the construction -are the wide window and door apertures possible with the thin pillars used. On the first bus built,
which is slightly under. 27 ft. long and 7 ft:6 ins. wide, the door gap it.•433.1 ins. --several inches wider than the average on modern single-deck buses.
Unladen weight of the first one built is 4 tons 11 cwt. A later type will seat 36 passengers in an overall length of 28 ft. 9 ins. and will have the interior . headroom slightly increased from the present 5 ft. 11 ins.
The vehicles for the current order • are fitted with double rear doors 52 ins.
• wide, which give access to space at the back for -luggage storage.. For this purpose the two rearrimst seats fold up against the body sides. Other items of • equipment include Moydon top sliding ventilating windows, three extractor
• ventilators in the roof and two in the rear .door:' The space between the roof skins is filled with glass wool. During a short demonstration run of the new bus, a representative of "The Commercial Motor" was impressed by the silence of the body. Drumming was absent and flutter of the panels
could not be detected. .
The simplicity of the framing, the use of standard • gussets wherever possible arid the practicability. of curving the side and rear panels without . weakening the structure, indicate that the design is likely to prove adaptable to many other types of bodywork.